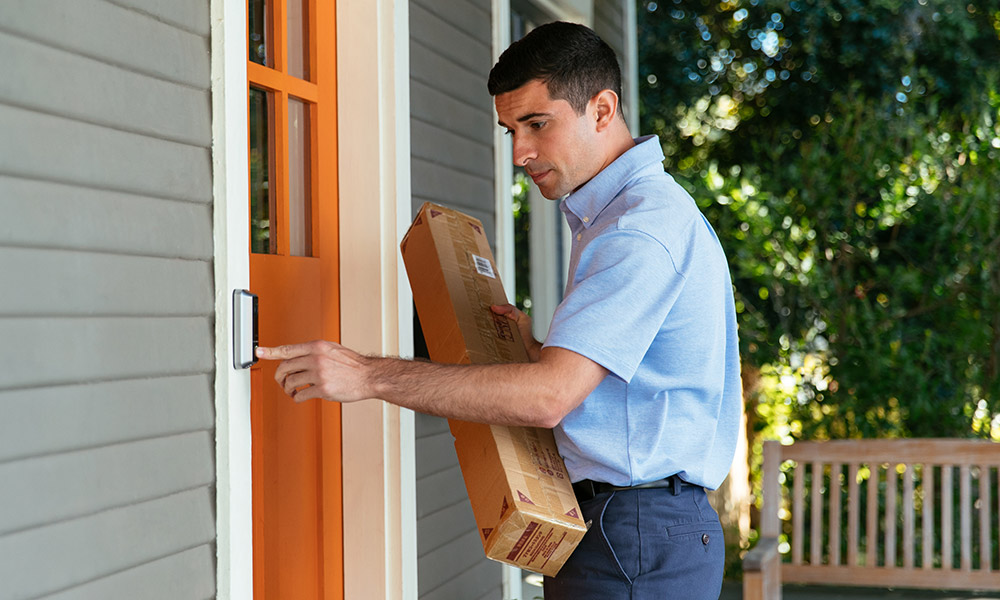 Installing a smart doorbell camera is a simple and affordable measure that can make your life easier and safer in many ways. It's more versatile than you think, as it provides a range of security and convenience benefits both when you're home or out. Here are six ways it can make a difference:
1. Deterring opportunistic thieves
The thief rings your doorbell and poses as a legitimate caller, such as a salesperson or canvasser. It's one of the most common theft techniques. If you don't open the door, they know you aren't home and will feel much more confident about breaking and entering. Having a visible camera on your doorbell is excellent security against such attacks, with would-be burglars knowing they've been caught on video.
2. Catching the criminals
If the worst happens, a wireless smart doorbell can provide video evidence of a burglary. It might be enough to help the police catch the offender and recover your belongings before they're sold. Even if that's not possible, having video footage could be enough for your insurer to approve your claim and pay out more quickly.
3. Keeping kids in line
Leaving your kids at home can be a stressful situation, whether they're with a babysitter or on their own. No matter how loudly they protest that they didn't invite their boyfriend or girlfriend over while you were out, it can be hard to be sure. Reviewing video footage through our app on your electronic device will let you find out if you need to have words, or if your child or babysitter deserves your trust.
You may also feel comforted by being able to use the two-way audio ability of your video doorbell to talk to your children while you're away. Additionally, you can also check your live video feed if someone comes to the door while your children are home unattended. This lets you still have some control over who your children answer the door to while you're not home, giving both you and them greater security.
4. Avoiding delivery waits
At best, Murphy's law says that if you leave the house for even a moment in a delivery window, you'll miss the call. At worst, the delivery person will either show up late or never even arrive, then claim you didn't answer the door. Having a camera will settle any argument about when they actually arrived.
It's even useful for unattended deliveries. By checking the camera remotely from your mobile device, you can get home and bring the package indoors and away from opportunistic thieves, without having to take the whole day off work just to be home to answer the door. You can also use the two-way communication feature of a video doorbell to speak with the delivery driver from your smartphone app and gives instructions on where to leave the package.
5. Screening your visitors
Whether you're working upstairs, busy in the kitchen or enjoying a relaxing summer's day in the garden, answering the front door can be annoying, particularly when it's someone trying to sell you something. Having a wireless doorbell camera, particularly one that connects in real-time to your phone or tablet through a mobile app means you can safely ignore strangers without the risk of missing out on visits from friends or family.
6. Making the whole greater than the sum
The best doorbell cameras work as part of a smart home system, meaning they can both enhance and benefit from other smart home devices.
When part of a smart home, a doorbell camera automatically begins recording when somebody approaches the door, and you can view that footage live or later thanks to playback DVR. You can also connect the doorbell camera to smart lighting that only switches on via motion detection when someone approaches to avoid wasting electricity.
Those are just some of the benefits of a doorbell camera. These devices aren't obtrusive, don't cost much and can be fitted quickly on your door frame or near your front door without any major disruption.
For more details on how a live video doorbell camera can make your home smarter, contact our Smart Home Pros today at 844.481.8630 for a free quote on a customized system.