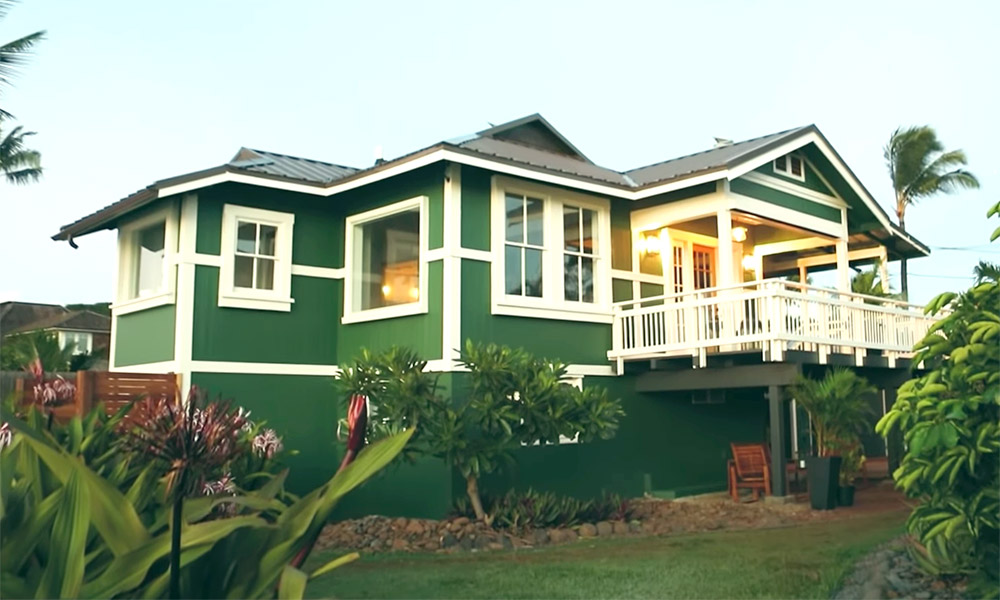 The Bucket List Family made the final stop on their three-year adventure around the world at the same place where it all started: Tonga. Inspired by the green cliffs of these islands, they selected green as the paint color for their home's exterior in episode 7 of Traveling Home.
Garrett and Jessica Gee—the parents of the Bucket List Family—said they are filled with bittersweet emotions at the conclusion of their journey but are excited to have a place to call home.
The time they spent in Tonga was a culmination of all their past experiences. Their adventures instilled a sense of confidence in their children to swim with whales without fear.
A home exterior that balances modern with historic
Back in Hawaii, home remodeling experts Andy and Candis Meredith worked on the exterior of the Gee's home while battling adverse weather conditions that came from a hurricane that narrowly missed the island.
Taking the color green as inspiration, the remodeling crew transformed the exterior of the home from a chocolate brown to a rich and fresh green that's contrasted with off-white trim. The new paint and unique lighting fixtures change the whole mood and feeling of the home.
According to Andy and Candis, one of the most challenging aspects of remodeling a historic home is not going too modern while still paying homage to the home's history. The result of the exterior remodel strikes that delicate balance. Take a look:
Do more with an outdoor living space
The exterior of a home is more than a yard, driveway, or garage. It's an outdoor living space. Creating an outdoor living space requires the same level of attention to detail as rooms inside the house.
While it's easy to let outdoor spaces be dominated by a lawn or patio, the outdoors is a perfect place to try out new ideas to become an extension of the home.
Here are some popular outdoor living space ideas:
Sitting/lounge area. A wide-open yard may be fun for kids to run around and play in, but sometimes you need a space to sit down and relax. Section off a portion of your yard to be a sitting or lounge area. Add some yard furniture that's comfortable and inviting. An outdoor lounge area can be as simple as a small table and a few chairs. Surround the lounge area with plants to breathe extra life into the space. You may also consider a covered or semi-covered outdoor space.
Pathways. A pathway to your door, around the house, or through a garden sparks curiosity and encourages exploration of your outdoor space. You don't need a large yard to take advantage of paths. There are many options when it comes to paths, including wooden walkways, stone paths, rocks, or plant-lined walkways.
Arbors, trellis, and pergolas. Covered outdoor features like an arbor, trellis, or pergola are popular ways to add an eye-catching feature that combines form and function to provide shade. While more complicated than other outdoor features, they add an inviting element to an outdoor living space.
Small gardens. For many homes, outdoor living space is limited, leaving little room for a traditional garden. But innovative gardening techniques can provide significant yields without taking up a large amount of space. A small garden breaks up a garden into containers of various shapes and sizes, allowing plants to grow while simultaneously serving as a design feature.
Outdoor dining space. During warmer months, nothing beats al fresco dining. Patio furniture sets have been around for years and make outdoor dining easy. Take outdoor dining to the next level with a dedicated outdoor eating space. Consider moving the space further away from the house and surround it with unique plants and even an arbor.
Xeriscaping as an alternative to lawns. While a well-manicured lawn is beautiful, it also requires a lot of water. And with droughts and water shortages in many parts of the country, lawns may not always be practical or environmentally responsible. Xeriscaping is a popular landscaping technique that uses plants, rocks, and other features to reduce the amount of irrigation needed. Not only is xeriscaping a beautiful way to landscape a yard, but it also means less lawn mowing on the weekends!
Outdoor lighting. Just as a well-placed lamp or lighting fixture can transform the feeling of an interior room, outdoor lighting can enhance an outdoor living space. Overhead and wall-mounted lighting fixtures are common, but solar-powered LED lights placed along paths and within a garden are growing in popularity. Relatively affordable and easy to use, outdoor lighting can make an outdoor living space particularly inviting at night.