The Bucket List Family spent an adventure-filled week in Fiji, an environment similar to Hawaii, which offered valuable insights for what they wanted in their remodeled bathroom. Catch the full experience in episode 5 of Traveling Home.
The Gees—the Bucket List Family—took a beautiful hike on Fiji and swam under a waterfall. This gave Garrett the inspiration for something he wants in his bathroom: a shower that provides an experience as similar to a waterfall as possible.
While Andy and Candis Meredith, the Gee's home remodeling experts, didn't install a waterfall, they did come up with an indoor/outdoor shower solution that brings nature into the bathroom.
The Bucket List Family is always looking for adventure and on Hawaii that adventure comes with plenty of sand. The indoor/outdoor shower is the perfect solution to clean off sand before entering the house.
The outdoor shower features a beautiful wood wall and is surrounded by plants to provide privacy while staying in nature. Inside the bathroom, are dual showers with an ocean view.
A minimalist bathroom
In addition to the convenient shower, the Gees wanted a bathroom that supports their minimalist lifestyle.
Minimalist bathrooms are a popular trend that combines design and functionality to transform a traditionally cold and sterile room into a more comfortable space.
For the Gees' bathroom, this meant:
A custom-built furo (Japanese style tub) with extra tall sides. This unique tub fulfilled a special challenge from Garrett who wanted the deepest bathtub Andy and Candis could find.
Simplification of items in the bathroom. There's no bathroom storage at all in this bathroom. Everything in the bathroom has an immediate purpose, or it doesn't belong.
Neutral colored waterproof plaster walls that are contrasted with the hexagon floor tiles and metallic fixtures.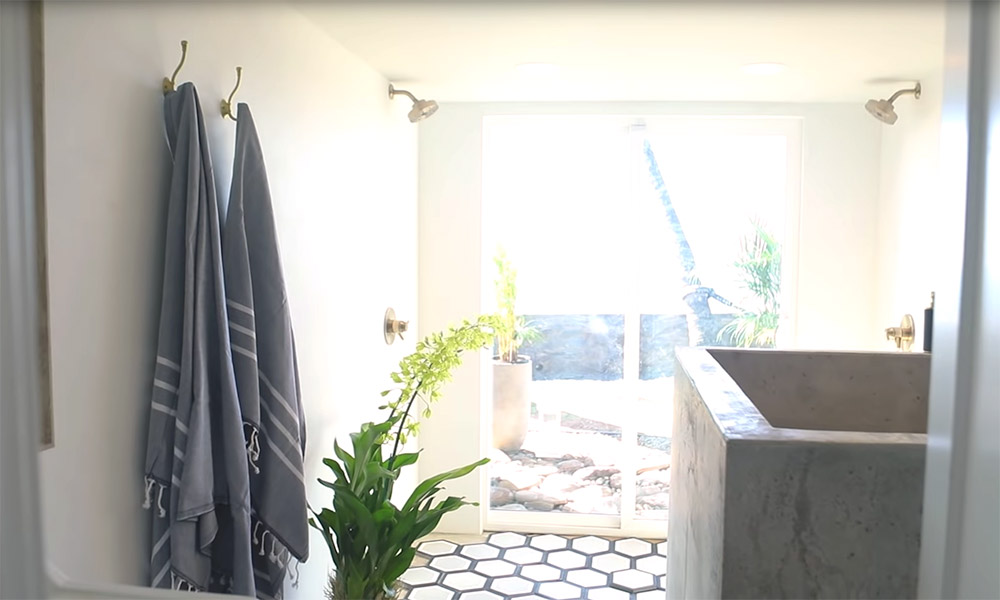 You don't have to do an extensive bathroom remodel to give your bathroom a minimalist refresh. Here are some simple tips to achieve a minimalist bathroom:
Everything should have a function. Take an inventory of everything in your bathroom and determine how frequently you use it. Only keep items you regularly use.
Think quality over quantity. As you reduce the items in your bathroom, you can put greater emphasis on the items you keep. This is a fun opportunity to opt for nicer towels, lighting, or fixtures as these become the focal point of the room.
Stick with neutral colors. A neutral color palette keeps the room simple and makes accent pieces stand out.
Add contrast. Patterns, wood, or metal add warmth and texture to provide contrast to neutral colors.
Reduce clutter. Remove or restructure areas that tend to gather clutter. Keeping countertops clear helps maintain the minimalist look of the room. Don't just tuck everything under a cabinet either. The idea of minimalism is that everything has a purpose and a place.
Add natural elements. Adding natural light, plants, or light natural wood colors can breathe a feeling of life and energy into a bathroom.
Don't be afraid of empty spaces. Empty (or partially empty) shelves add to the feeling of openness in a minimalist bathroom.
Avoid a disaster before it strikes
A minimalist bathroom can provide a more functional and comfortable space, but it doesn't necessarily protect against hidden dangers.
Bathrooms are one of the most common areas of the house for water damage to occur. And this damage is fairly common. In fact, water damage is the second-most common home insurance claim. While insurance can help offset costs, repairing water damage can be expensive and time consuming. Preventing damage before it happens can save you money and provide peace of mind.
One easy way to protect yourself against water damage is to install smart flood sensors in areas of the home most likely to flood, such as bathrooms, laundry rooms, and in the kitchen. These sensors can detect the presence of water before it becomes a major problem.
The best way to get the most out of a flood sensor is to include it as part of a comprehensive smart home system. If the sensor detects water, it will send a notification to the system to alert you. And if you're not home, Vivint's professional monitoring team can respond.
In addition to flood sensors, a smart home equipped with smoke alarms, carbon monoxide detectors, glass break sensors, and door and window sensors help you know what's happening in your home and keep you, your family, and your home safe.
Your home is your castle. Make sure it's protected and watched over whether you're home or away with a smart home system.
See how easy it is to get a free quote on a smart home system and claim a special offer as a friend of the Bucket List Family.
Tell Me More
Catch up on all Traveling Home episodes