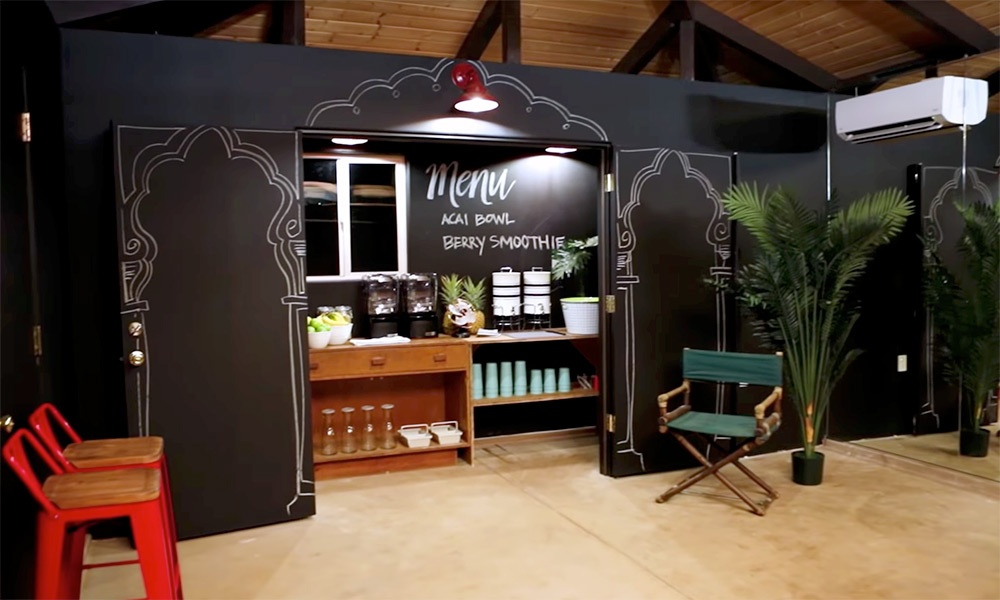 In episode six of Traveling Home, the Bucket List Family's garage is transformed into a home gym and smoothie bar using inspiration gained from their time in India.
The Gees—known as the Bucket List Family—are active and value space to workout and be adventurous. When they arrive at their home in Hawaii, they want a home gym that's ready to do work.
Home gym inspiration from an Akhara in India
Inspiration for their home gym came from the time they spent in India at an Akhara, a training gym full of weights, ropes, and a wrestling mat. As Garrett worked out at the gym, he was impressed by the hustle and workout intensity of the boys. Coming away from the experience, he knew he wanted a gym that's rough and tough.
Jessica enjoyed visiting fruit stands with Dorothy and selecting fresh produce. The family loves smoothies and wanted a smoothie bar to accompany their home gym.
Transforming a garage into a home gym and smoothie bar
Back in Hawaii, Andy and Candis Meredith realized the small garage would be better utilized as a home gym than as a place to park a single car.
The first step in transforming the garage to a home gym was taking an unconventional approach: painting the walls black. While black isn't a common wall paint selection, Candis had a vision for using black chalkboard paint to transform the space into something adaptable and unique.
Using a chalkboard marker, Candis added hand-drawn flourishes to make the home gym inviting. One of the fun features of chalkboard paint is the ability to easily customize a room.
Other home gym features include:
Two AC units to keep the gym comfortable.
Wall-length mirrors along one wall to open up the room.
A smoothie bar behind double doors that includes two blenders to quickly whip up smoothies for a post-workout refreshment.
The final result is a home gym that's functional, fun, and unique. Take a look!
Create your own home gym
Home gyms are often seen as a luxury for homeowners who have space and money, but the reality is it's relatively easy to get started with a home gym.
The secret to a great home gym is to build it around workouts you enjoy. If you prefer moving from one piece of gym equipment to another, a traditional gym may be more your speed. But if you have a couple of workouts you love doing, you can often build a home gym around those workouts.
There are many models of treadmills that fold up to conserve on space, and weight systems come in a variety of styles to accommodate smaller rooms.
Make your home gym a space that energizes you and gets you excited to workout.