Remodeling is an exciting time. A well-planned renovation can breathe new life into your home with increased comfort and improved function. And integrating smart home technology into your remodel is one more thing you can do to help transform your house into your dream home.
Why add smart home features to your renovation?
So whether you're planning a remodel or you're already knee-deep in renovations, consider the benefits of incorporating smart home technology and automation into your project.
Take a look at how a smart home can improve the home ownership experience with added control, convenience, and protection:
Ease
You might be surprised to learn that turning your home into a smart home won't require extensive renovations. It's definitely more affordable—and easier—than a bathroom or kitchen remodel. Many smart home components are also wireless, so complicated rewiring is a non-issue.
Demand
It's always smart to consider resale value when making any renovations to your home, and adding smart home features will help you keep up with the demands of buyers. Home automation was one of the top three home system upgrades for remodelers in 20161. It's not a surprising statistic, considering one survey found that 61 percent of millennial homebuyers2 would choose to buy a home with smart home features already installed versus one without.
Home automation was a top 3 home system upgrade for remodelers in 2016.
Convenience
Once you've experienced the benefits of a smart home yourself, you'll wonder how you ever lived without them. Being able to control your temperature or lights with your voice, lock your doors from another state while on vacation, or even see who's at your front door are just a few ways a smart home can simplify and streamline your life.
High-tech home trends for your remodel
Take a look at some of the best home automation elements to consider for your remodel:
Energy-saving devices
Anything that will help you save energy is a smart investment. Not only is it good for the environment, but it's good for the wallet. Homes with smart thermostats, for example, can see big savings. A recent study found homeowners with the Vivint Element Thermostat saved an average of $112 a year3 on their heating and cooling costs.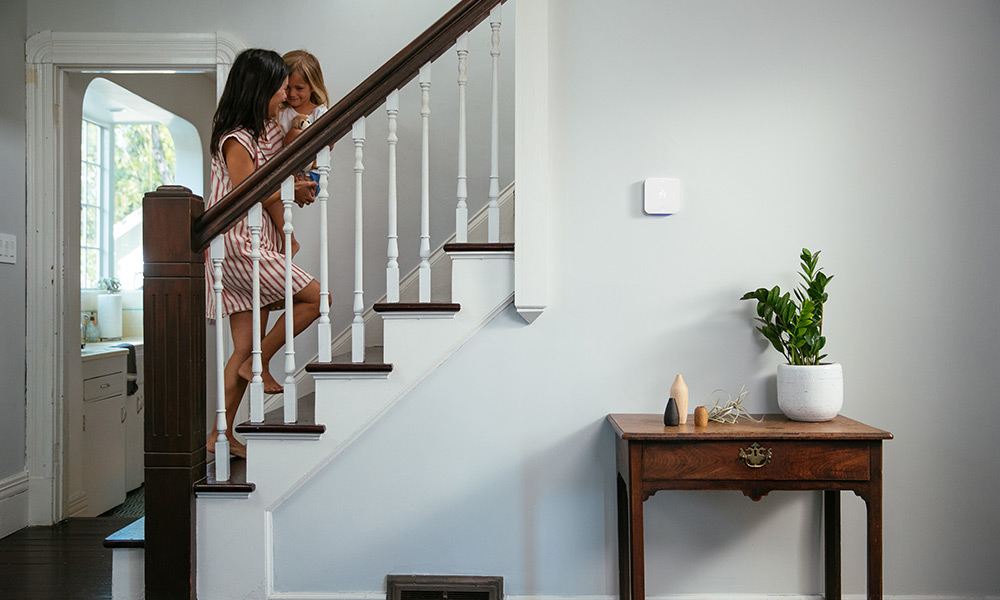 Smart lighting is another energy-efficient feature to consider in your home remodel. Simply swapping out your current lightbulbs for smart bulbs will save money on utilities, as they use less energy. And they don't have to be replaced as often as traditional lightbulbs, further decreasing your lighting spend.
Integrating them with your smart home app or smart speaker also helps you use lighting more efficiently—you can turn lights off remotely when necessary. And with the convenience of voice control with your Google Home or Amazon Echo you're more likely to dim lights or turn them off when you leave a room.
Smart locks
For a family that's always on the go, smart locks can provide much-needed convenience. No more worrying whether or not you locked the front door in your mad rush to leave the house on time. You can lock it using your mobile device from anywhere.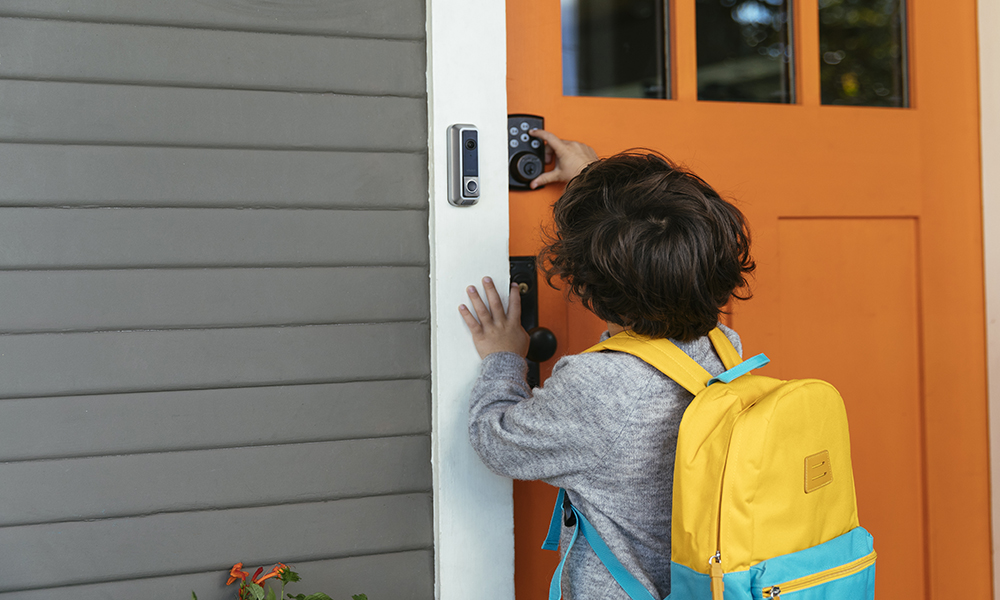 Smart locks come with an added measure of security as well. They eliminate the need for making multiple copies of your house key or leaving a hide-a-key when you have houseguests, package deliveries, or pet sitters over. Changing the locks is also no longer an expensive process; you can simply change your lock codes.
Security system
Adding a security system to your home remodel can provide added peace of mind. A security system can alert you to a variety of emergencies with components like:
Glass break sensors that sound an alarm if a window is broken.
Motion sensors that detect unauthorized movement in your home.
Smoke and carbon monoxide detectors that sense potential fire and deadly gas.
24/7 monitoring that quickly alerts the proper authorities in the event of an emergency.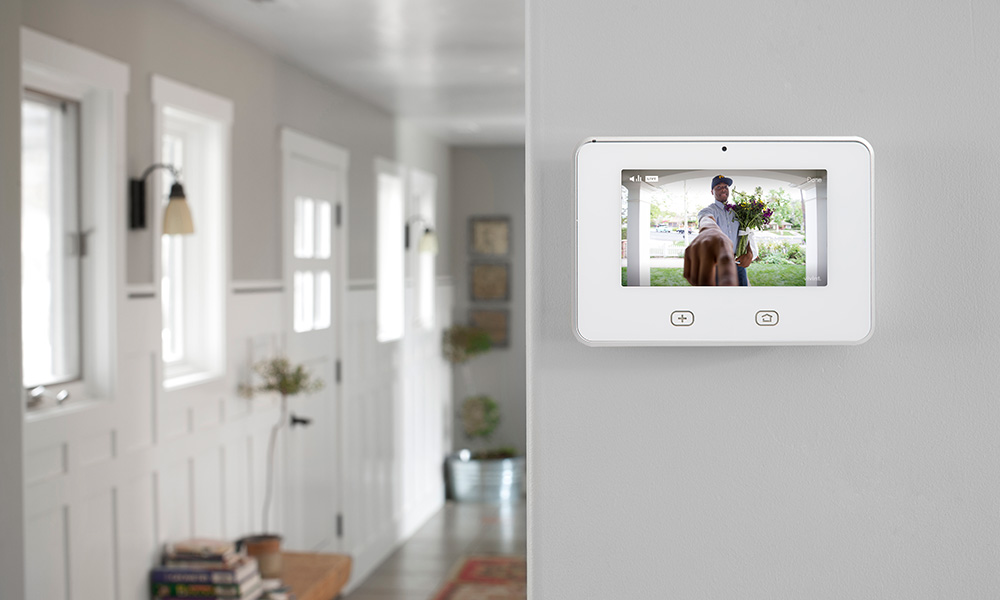 Security cameras
Must-have cameras for your home security system include:
Video doorbells. These subtle doorbell cameras blend into your doorway and let you see what's happening at your front door day or night, thanks to the wide-angle HD-resolution lens and night vision. Two-way voice also lets you speak to whoever is at your door. You can view your video doorbell feed from your smartphone or inside your house, and continuous recording makes it easy to view playback.
Outdoor cameras. An outdoor camera keeps an eye on the areas of your property that need it most. The Vivint Outdoor Camera features motion detection that triggers automatic recording, and with HD resolution and night vision you always have a clear view.
Garage door control
For most of us, our garage houses some of our most valuable possessions like cars, tools, and sports equipment. It also provides access to your entire house through a single entrance, making it an attractive target for break-ins—about 9 percent of home intruders gain access through the garage4.
That's why it pays to be able to control your garage remotely. With smart garage door control, you don't have to wonder or worry if you forgot to close the garage door—custom notifications will alert you if your garage door was left open or if it opens while you're away. And you don't have to return home to take care of it. You can close your garage door no matter your location using your smartphone and contact the proper authorities if you think your garage was burglarized.
Choosing the right smart home elements for your remodel
If you're considering smart home technology remember that it's not a one-size-fits-all approach, meaning you don't have to integrate every available device or gadget. You can customize your smart home to fit your needs, concerns, and budget.
And with Vivint Smart home, you get the added benefit of our highly trained and qualified Smart Home Pros who work with you from consult to install. Remodeling a home is stressful enough on its own. If you're adding smart home technology to the mix, consider it done with Vivint. We'll help you customize your system, professionally install it for you, and teach you how to use it. No guesswork, no added stress, no DIY conundrums.
Remodeling is all about creating a more comfortable, up-to-date, secure home for your family. Fitting smart technology into your remodel is a surprisingly simple way to transform your house into a high-tech home while protecting your family and your investment.
---
Sources