Key takeaways
Los Angeles (30.6%), New York (26.9%), and Forth Worth (25.1%) have the highest percentages of smart home listings.
The top 3 most expensive cities for smart homes are Boston, MA; Seattle, WA; and Scottsdale, AZ.
46% of prospective homebuyers can't afford a smart home.
More than 1 in 10 Americans would go over budget to buy a smart home, spending an average of $15,323 more.
42% of prospective homebuyers plan to purchase a home within the next 2 years.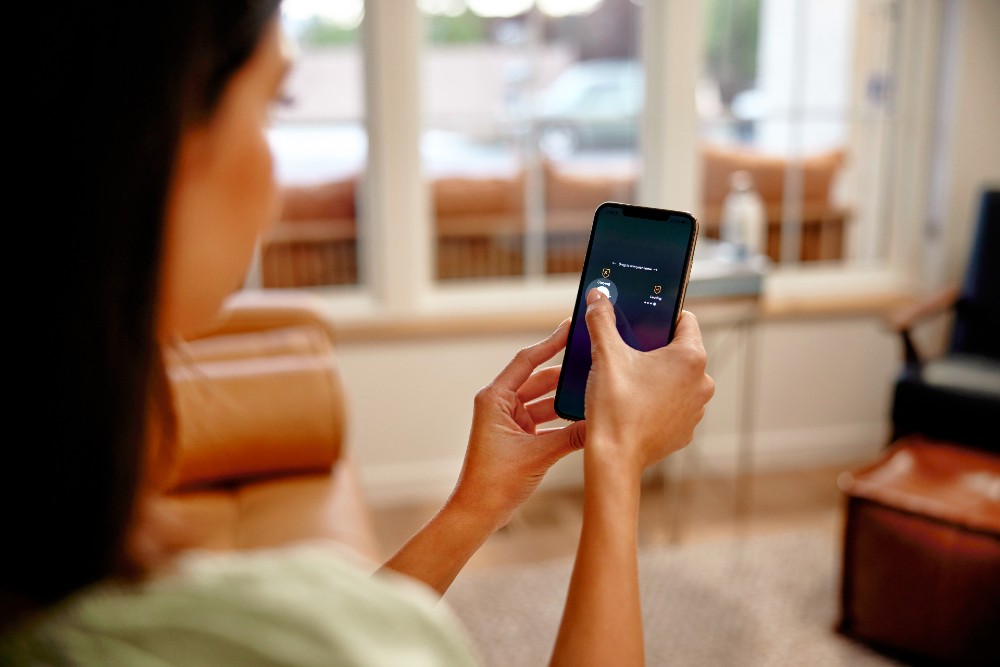 The rapid rise of the smart home
Rapid technological advances are allowing more homeowners to enjoy the convenience, efficiency, and enhanced security that smart homes have to offer. We recently conducted a data analysis to pinpoint the cities where buyers can expect to find the most smart homes for sale and at various price points. We also surveyed over 1,000 Americans to gauge public sentiment surrounding smart homes and their benefits. Before digging into our findings, let's define what we mean by smart homes.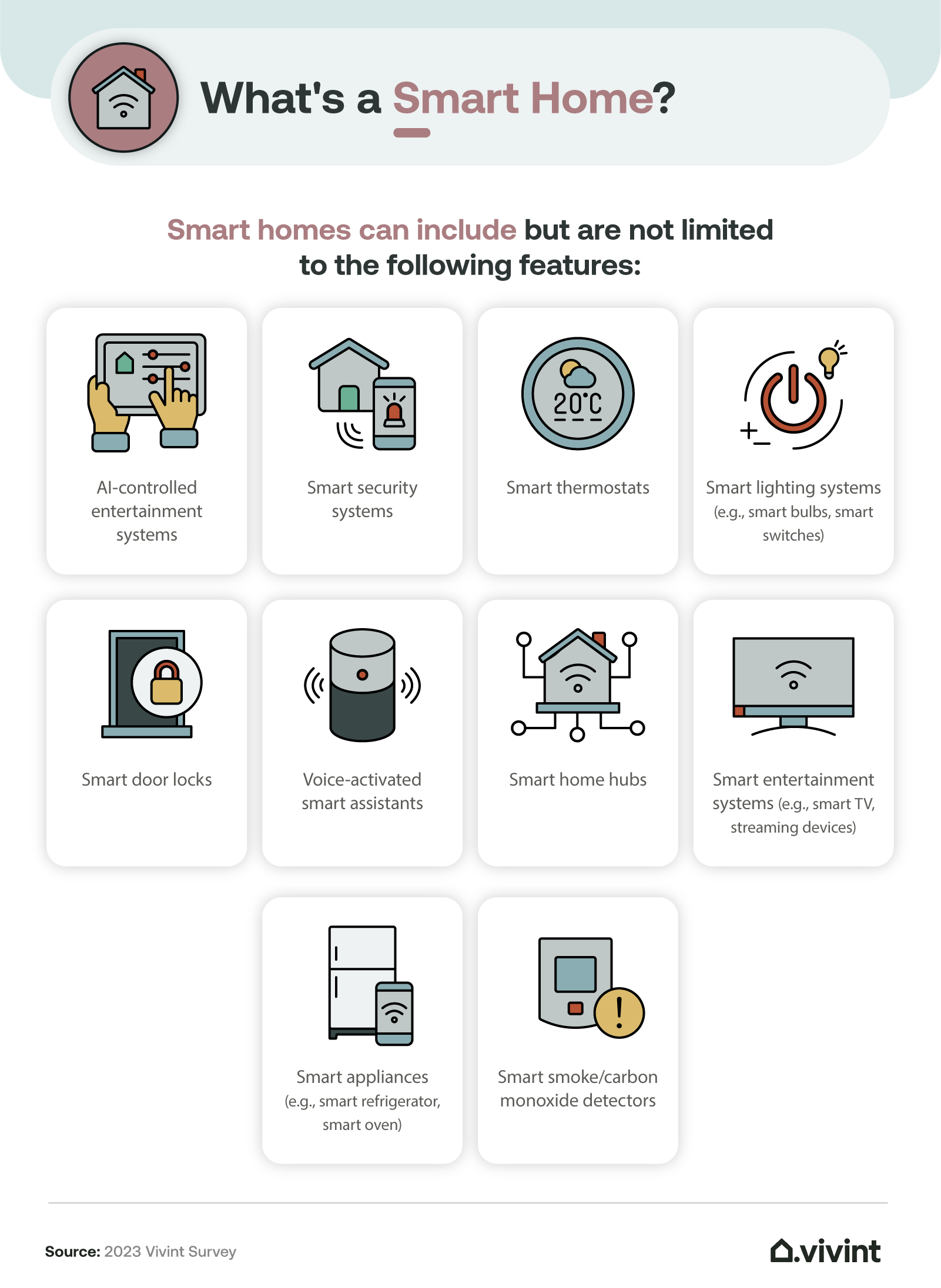 A smart home is a place with internet-connected and programmable devices, ranging from smart thermostats to doorbell cameras. Some homes in our study had more smart features than others, but they included at least one of the items shown above. Let's now take a look at the smart home hotspots we found across the U.S.
Smart-home friendly cities
While smart homes are popping up nationwide, you'll find more listings in some cities than others. Discover which of the most populated places have the most smart homes for sale.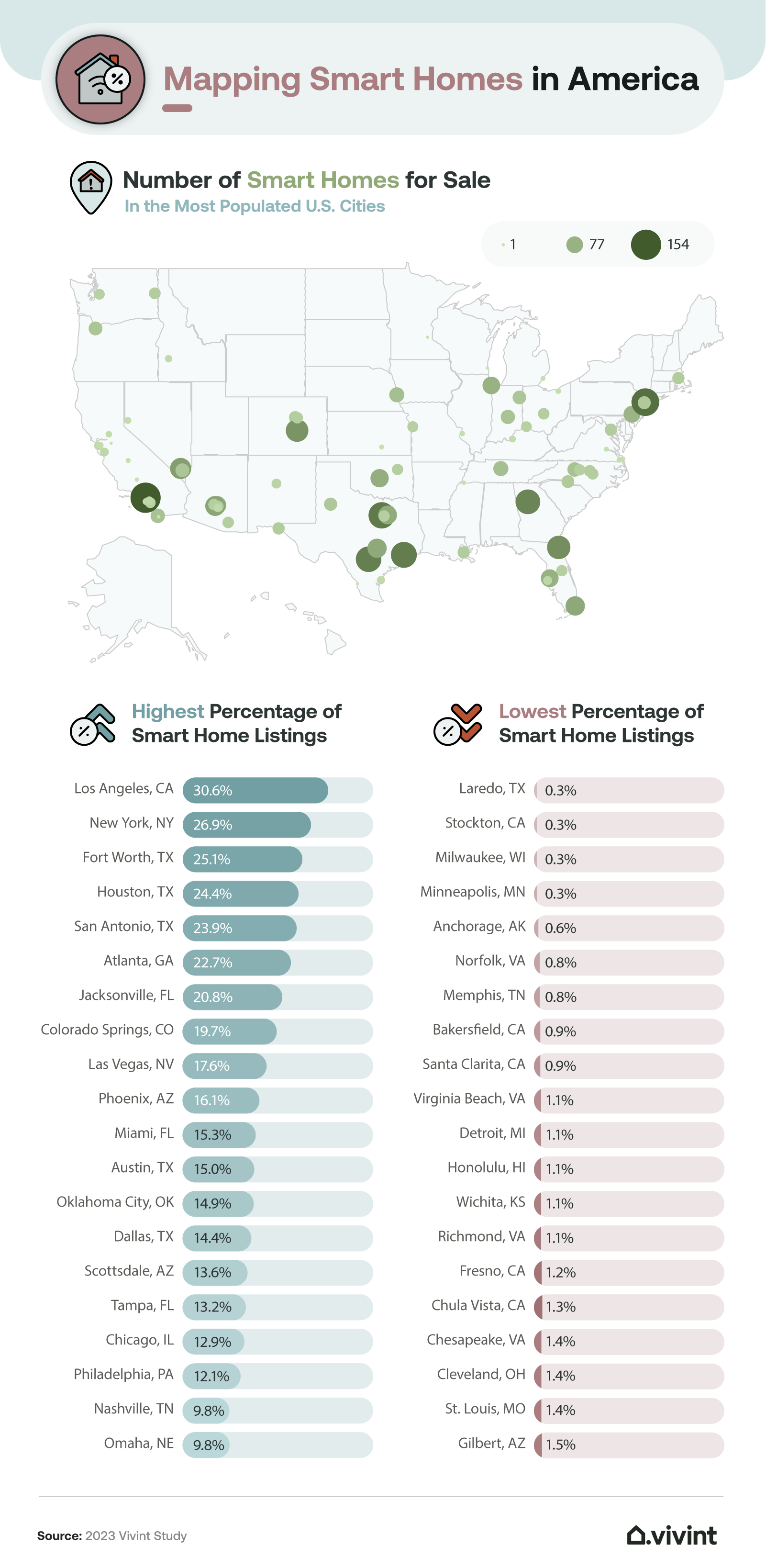 Our study revealed that prospective smart homebuyers would find the highest percentages of smart home listings in Los Angeles, CA (30.6%), New York, NY (26.9%), and Forth Worth, TX (25.1%). Los Angeles proved the most popular city for smart homeowners, as nearly one-third of all sale listings were for smart homes. From innovative communities such as Playa Vista (aka "Silicon Beach") to energy-efficient subdivisions in nearby Riverside County, the L.A. area is now home to multiple growing smart communities.
It makes sense that you'll find the largest number of smart homes in or near the nation's largest tech hubs. Tech-centric cities such as Atlanta (22.7%), Phoenix (16.1%), and Austin (15.0%) also ranked high on our list. Minneapolis, home to a traditionally vibrant tech scene, proved the exception to the rule with only one smart home listing currently available. Minneapolis tied with Laredo, TX, Stockton, CA, and Milwaukee, WI, as the cities with the lowest percentage of smart homes on our list.
Where do smart homes cost the most?
As any homebuyer can attest, a wide range of smart home listings doesn't mean much if every available property is out of your budget. Let's review the average price of smart homes in various cities.

Choosing where to buy a smart home could make a multi-million dollar difference. We discovered that the average going rate for a smart home was $823,740, but buyers in Massachusetts should be prepared to pay a premium. Boston topped the list as the most expensive city, with an average smart home price of over $2.6 million, followed by Seattle (over $2.4 million) and Scottsdale (over $2.3 million).
Not only was Seattle the second-most expensive smart home market, but it also ranked sixth in terms of the highest price increase from "non-smart" homes. Smart homes in this locale were 146% more expensive than traditional home listings.
But rest assured—purchasing a smart home for substantially less in other cities is possible. You'll find average smart home prices for well under $1 million in cities such as Lubbock, TX ($308,025), El Paso, TX ($317,092), and Winston-Salem, NC ($331,870). And even if buyers can't afford a smart home in their preferred city, they can transform any home by installing smart devices as their budget allows.
Home sweet smart home
In addition to collecting data, we wanted to find out how Americans from various generations felt about smart homes and technology. Here are the results we collected after surveying over 1,000 study participants.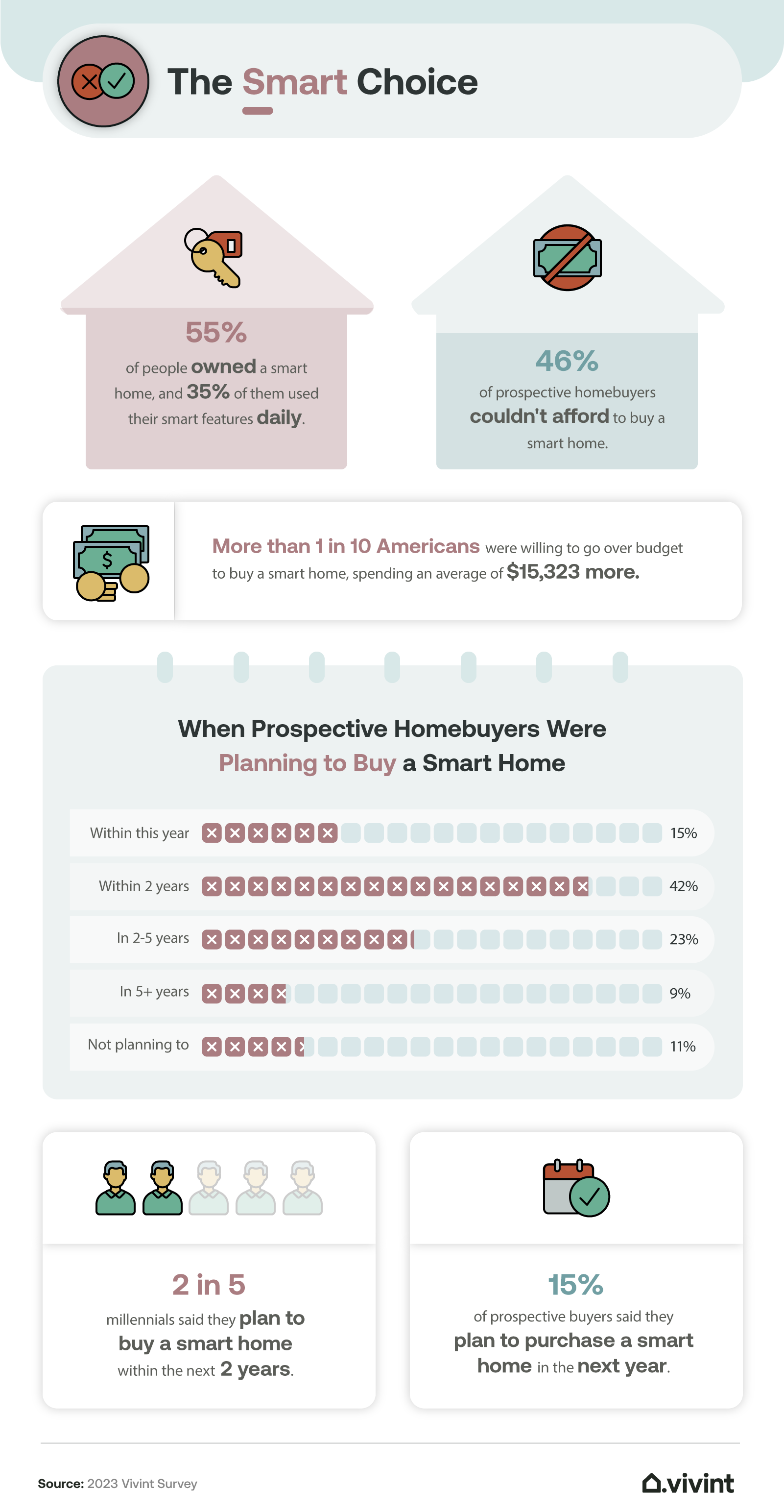 While more than 1 in 10 Americans would go over budget (by an average of $15,323) to buy a smart home, cost does remain an issue. Just under half (46%) of the prospective homebuyers we surveyed thought they couldn't afford a smart home. That said, many homeowners already use smart home technology. Our smart technology users cited their favorite benefits as energy efficiency (63%), convenience and automation (49%), and enhanced security (48%).
When asked about what types of smart products they used, the most popular responses included:
While just 15% of Americans planned to purchase a home with smart features within the next year, 42% said they had plans to purchase one within the next two years. The latter category was mostly millennials (40%), among whom smart home interest appears to be particularly high.
Smart homes are becoming smarter choices
Some American homeowners are embracing the convenience that smart technology has to offer, while others are interested in doing so. From innovative home security systems to energy and entertainment products, smart systems allow homeowners access to cutting-edge solutions. As our study revealed, location can go a long way toward finding a smart home at an affordable value. Whether or not you plan to purchase a new house soon, it's worth looking into the best smart technologies to integrate into your home.