Connect the Google Assistant to your smart home and say hey to easier control.
*Device sold separately
A Vivint Smart Home Pro will contact you within 24 hours. Or skip the form and call now.
With Google Home in your corner, simply speak to manage select smart home features. Tell Google to adjust lights or lock the door while you enjoy the convenience of hands-free control.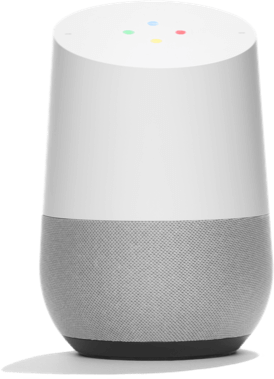 Touch surface for volume control and mute button to put Google Home's microphones on standby.
Integrated high-excursion speaker delivers crystal-clear highs and rich bass for hi-fi sound.
Far-field microphones and industry-leading natural language processing.
The Google Home has the Google Assistant built in. It's your own personal Google, always ready to help.
Optional base accessories include both fabric and metal with up to 6 different colors.
Swipe to see more
Speaker
2" driver + dual 2" passive radiators
Connectivity
Wi-Fi 802.11b/g/n/ac (2.4/5Ghz)
Supported OS
Android 4.2+ and iOS 9.1+
Warranty
The length of your Vivint Service Agreement
Keep your smart home comfortable, efficient and secure with simple voice commands. Adding Google Home to your Vivint Smart Home system creates an easier way to adjust smart home devices and get quick answers to questions. And since the Google Assistant recognizes different voices, responses are personalized just for you.
Get personalized help managing your smart home, your daily task list, or your commute. The Google Assistant can set alarms, timers, and reminders and play news, podcasts, and radio stations as you go about your day. Or use Google Home to place hands-free calls to family, friends, and local stores in the U.S. and Canada.
The Google Assistant adds the power of Google Search, Maps, and more to your smart home. So you can ask Google for recipe conversions without putting down a measuring cup or adjust the temperature without leaving the kitchen. Even from across the room, when you say "Hey Google", the far-field microphones hear you through the din.
Google Home isn't just a great way to control your smart home; you can also use it to control your media. Hosting a dinner party? Ask Google to turn on a playlist and adjust the lights while you greet arriving guests. When it's time to liven up the party, your Google Assistant works with Chromecast so you can start streaming movies and music on your TV or speakers with just your voice.
Small and mighty.
*Device sold separately
Your Smart Little Helper

.
Like its larger counterpart, the compact Google Home Mini offers the same convenient voice control in a sleek, streamlined package. It's small enough to blend in, and smart enough to help you run the house.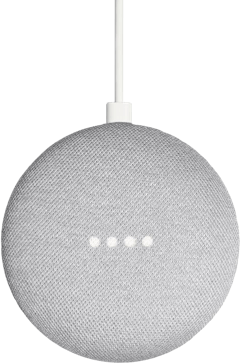 LED lights change to let you know it's listening.
Far-field microphones for hands-free use from across the room, even when it's noisy.
Google Home Mini has the Google Assistant built-in. It's your own personal Google, always ready to help.
Rear switch to turn the mic off.
Side buttons for volume and playback controls.
Integrated full-range speaker with 360 sound for music and voice feedback.
Swipe to see more
Specs
Weight
Device: 6.10 oz
Power adapter and cable: approximately 2.65 oz
Wireless
Wi-Fi, Bluetooth® support
Speaker
360 sound with 40mm driver
Mics
Far-field voice recognition
Supported Operating Systems
With four hidden LED lights and a compact, clutter-free design, Google Home Mini puts smart home voice controls into any room while blending right in. Its touch surface resists everyday wear and tear, letting you discreetly adjust the volume, activate your Assistant, or control audio, timers, alarms and responses. So go ahead, make it your sous chef in the kitchen, your helper in the living room, or your tutor in the home office.
Compact and discreet, you can use Google Home Mini alone, or set up a few around the house to enjoy the power of Google everywhere. Since it integrates with Vivint Smart Home, you get voice control over every aspect of your smart home system. Welcome bedtime by setting the thermostat, locking the doors, and turning off the lights while you wind down—all with nothing but your voice.
A smart home should remove tasks from your to-do list. That's why Vivint Smart Home service includes professional installation. When you sign up with Vivint, we'll send out Smart Home Pros installers to get your system set up, working seamlessly, and integrated with your Google Assistant. You have enough to worry about; let us handle the technical stuff.
A Vivint Smart Home Pro will contact you within 24 hours. Or skip the form and call now.

Doorbell Camera Pro

Kwikset Smart Lock

Element Thermostat

Outdoor Camera Pro

Ping Camera

Smart Drive

Garage Door Control

24x7 Monitoring
Doorbell Camera Pro
Our doorbell camera automatically detects packages and uses light and sound to actively deter package thieves. With two-way talk, it also lets you answer the door from anywhere. And the app gives you quick access to your locks and garage door so you can let in the good and keep out the bad.
Kwikset Smart Lock
No more keys. With unique access codes everyone in the family—or even visitors—can come and go while your home stays secure. Control your locks when you're away using the Vivint Smart Home app. And with one-touch lockup, you can control your security system, lights, and locks with the touch of a button.
Element Thermostat
With the Element you get smart temperature control that perfectly blends comfort and energy savings. It automatically adjusts temperature based on home occupancy, and you can change settings manually from anywhere with your smartphone—potentially saving you up to 12% on your energy bill.
Outdoor Camera Pro
The Vivint Outdoor Camera Pro is the only surveillance camera that intelligently identifies and automatically deters true threats. It doesn't just record activity—it helps prevents crime. It's like having your own personal security guard patrolling your home around the clock.
Ping Camera
Ping, the world's first indoor camera with true two-way communication, keeps you connected to your family. View live and recorded video when you're away using your smartphone. And if you're home, call out to speak to family members with the press of a button.
Smart Drive
Nothing gets by you with Vivint Smart Drive. Save 24/7 video footage from up to four security cameras including indoor, outdoor, and doorbell to get a complete picture of your home's interior and exterior. Save footage for 30 days and easily browse minute by minute using event markers.
Garage Door Control
With all of the coming and going at a busy home, it's nice to know you don't have worry if the garage is open. Using the garage door controller, manage your garage using the Vivint Smart Home app and receive notifications if your garage door is open or if it failed to close. Left open? No problem. Close it from anywhere with your smartphone.
24x7 Monitoring
We take protecting what matters most a step further with our award-winning, 24/7 customer monitoring and support. Our smart home specialists are just seconds away, ready to respond to a potential emergency and send first responders when you can't be reached. If you're home, contact us through the convenient two-way talk feature on your Smart Hub.