Spring cleaning isn't just a list of self-imposed chores invented by the hand sanitizer or cleaning supply industries. Most of us get that itch to clean, refresh and renew every year as the weather warms and days grow longer.
It's not a birthday or favorite holiday, but spring cleaning is a longstanding tradition we look forward to in a way. And though we may feel it in our bones—that need for a fresh, uncluttered, new-again house—spring cleaning is, in some part, rooted in tradition, practical need, and lifestyle.
Keep reading to learn more.
Spoiler alert: We've got you covered. At the conclusion of this article, you'll find free spring cleaning list printables to help you organize your spring cleaning tasks and stay motivated.
The roots of spring cleaning
We live differently today than we did decades ago, with central heat warming our homes during winter months and technology completing chores performed by humans in the past. No longer do we spend a day washing clothes by hand. Washers and dryers do laundry for us. There's a machine for washing dishes, and vacuums clean the rugs and carpet.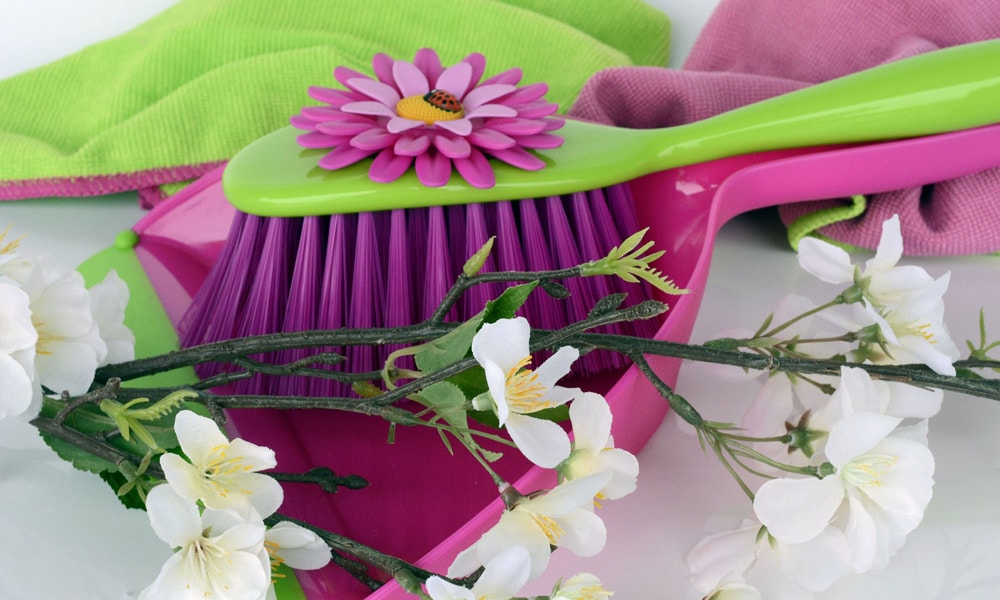 But it wasn't so long ago that people heated their homes during winter with fire. Every effort was made to keep the heat in and life, in large part, was spent indoors. Throughout the cold months soot, dust, and grime accumulated. Air grew musty. And by the time spring rolled around with its warmer temperatures and longer, light-filled days homes needed a solid, deep cleaning and airing out.
So that's what happened—people opened up their houses, cleaned and refreshed rooms, wiped away months of collective grime and residue. And this yearly cleaning ritual provided an opportunity to get active and get outside and breathe some fresh air.
Spring cleaning in the modern world
While we're not wiping away layers of soot, today spring cleaning still serves as a ritualistic refresh for the home. It's a time set aside to do a deep clean and complete those chores around the house that normally take a back seat to busy schedules, work, kids, and daily home upkeep and maintenance.
Spring cleaning can also provide a psychological refresh. Take a look at how clean, freshly scrubbed, clutter-free surroundings can improve your quality of life:
Empower yourself. You feel more productive when you start decluttering. You inherently find things when you clean and get rid of the stuff you don't need. No more looking for that particular book or your favorite pen. You function better when you know where to find things you readily use and store things in a neat and orderly manner.1
Clear your head. Cleaning your space helps you clear your head and focus. Whether it's work, a personal project, or you have some big decision-making to do, cleaning and decluttering frees up space in your mind—you no longer have to worry about what needs to get done around the house and you can put your energy toward more important things.2
Subscribe to our Newsletter
Get a health boost. Is it any surprise a clean living space is good for your health? Ridding your home of dust and toxins has been scientifically proven to help avoid allergy symptoms and improve overall well-being. So make sure to move furniture and wipe those hard-to-reach places.3
Lift your mood. Some things in life are out of your hands. But taking control of your personal environment and creating a space that is clean and organized brings a sense of order to your life. You really do feel better when you get things clean and decluttered. You feel happier, more accomplished and satisfied. And it reduces stress. Yes, please!4
Get spring cleaning done the easy way
Despite the benefits that come along with scrubbing down your home every spring, it can be overwhelming. Finding the motivation to actually do the work can be challenging.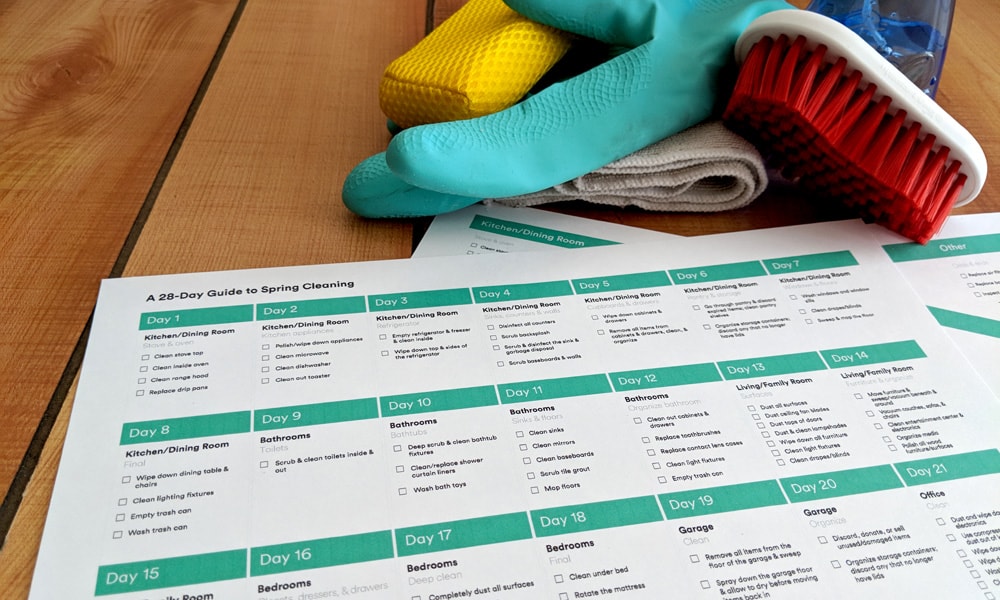 So to help get you going, we created a printable spring cleaning list complete with a few cleaning tips. And we've made things more manageable by breaking down your spring cleaning into daily tasks according to room. Follow these simple steps and within a month you'll have your home right where you want it: clean, fresh, decluttered. A sanctuary.
Download, print, and post these spring cleaning lists in your home to keep you motivated and remind you what you need to accomplish each day.
Get your free spring cleaning printable
Download
---
Sources