You're ready to create the bathroom of your dreams. But a $15,000 bathroom is not in your budget.
What to do?
Fortunately there are ways to give your bathroom a facelift without breaking the bank. It takes:
a little extra planning and research to shop those deals.
finding the right contractor who's going to do the best job at the best price.
knowing which splurges are worth it.
What's the cost of bathroom remodeling?
On average, a typical bathroom remodel can cost approximately $10,500 on the low end and up to $26,000 on the high end.1 That's a hefty price.
Think budget bathroom renovation: You can realize costs as low as $1,000 to $3,000 if you can do some of the work yourself and stick to cosmetic rather than major structural changes.
Go for a cheap bathroom renovation
A big chunk of a bathroom remodeling cost comes with changing the wall placement and the pipes.
If you can keep the same layout, including electrical work and plumbing, you'll save a considerable amount of money. By not expanding the design to a larger space, you can also save money on materials. Fewer square footage to cover means less wall and floor tiling to purchase.2
Remember that with most home renovations, updating your bathroom will add value to your home. And in the event you sell your home in the future you can recoup some of your expenditures.
Consider going the DIY route
Working on a low budget possibly means putting in a little sweat equity. While this isn't an option for everyone, if you're handy you can forgo the contractor here and there and do the labor yourself—apply paint or wallpaper, change out a toilet or sink, or switch out hardware.
Enlist a friend for help, watch videos online, and ask questions. Call for assistance with complicated electrical or plumbing issues beyond the scope of your abilities. And if you're not taking the bathroom down to the studs, which we assume you're not since you're working on a budget, why not design the remodel yourself?3
A budget-friendly renovation is doable
Sometimes a few cosmetic changes can make a big difference without big spend. Fresh paint, caulk and grout, and new fixtures can all breathe new life into a bathroom without breaking the budget.
Apply a fresh coat of paint
With paint, consider the mold and steam factor and make sure you use a high-grade paint with a satin finish to ward off mold. You might want to go over the ceiling as well to protect it from moisture.
New caulk or grout provide a clean look
Dirty, grimy caulk and grout are unsightly. Giving the grout a good scrub and going over caulk with clean straight lines or adding it around the tub and sink can give your bathroom sparkle and shine on a budget.
Install new hardware
Rather than a new vanity, change out the hardware along with faucets and towel bars. Hardware and fixture changes are typically easier DIY projects and breathe new life into a bathroom.4
Shop around for the best deals
Do some research before jumping into your bathroom renovation. It's more time-consuming and requires a little extra work on your part, but it can save you money in the end.
Lots of people are doing projects, and there's hefty competition in the building supply market. So let a store knowing you're working on a home remodeling project. Show them your shopping list and see if they offer discounts when you purchase everything from their store. It's also smart to find out if a store will beat or match prices of competitors.
And of course, explore the Internet. Try using a shopping bot or shopping comparison site rather than searching one site at a time. And look for low-cost substitutes—luxury vinyl flooring instead of real wood plank flooring, for example, can save a nice chunk of change.5
Recycle and buy used
Recycle what you can. Rather than purchase a new tub, have your existing tub reglazed or relined and put that money toward other changes such as new fixtures or lighting. DIY tutorials are available online but hiring an expert to do the job will save time, and you'll probably still spend less in the end.
Shop around for pre-owned fixtures and accessories. Thrift stores, eBay, and Craigslist are awash with recycled items you can use for your renovation. Stop by your local Habitat for Humanity ReStore and see what treasures you can dig up. You just might find that perfect fixture, vanity, or even tile at a fraction of the regular price.6
Go green and save some green
Going green can save you money. If you are purchasing new, then go for low-flow sinks, toilets, and shower heads that will help you conserve water and save you money in the process.
Prices are often comparable to and sometimes less than traditional options. You'll spend the same amount and get an immediate return on your investment when the utility bills arrive.7
Make your bathroom smart
While you're planning out your renovation, think smart home technology. Just a few easy value-adds can increase the function, comfort, and security of your bathroom.
With smart lighting installed in your bathroom you never have to worry if you forgot to turn off the lights. Control them with your voice, from a central hub, or on your mobile device.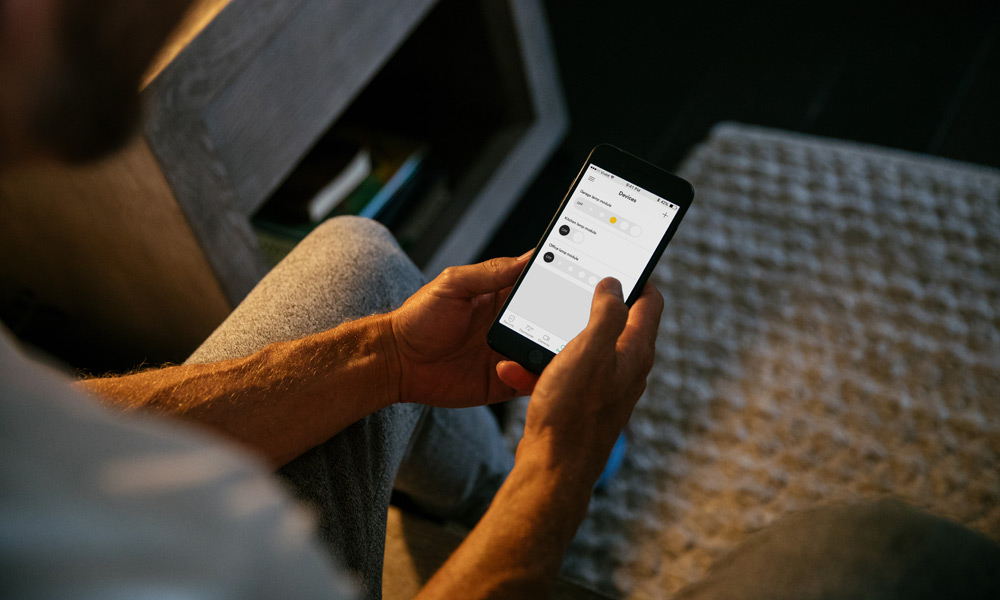 Do you find yourself wondering if you left the curling iron plugged in? With a small appliance module, you can check on your mobile device and turn it off no matter where you may be.
Flood sensors will inform you of extreme shifts in temperature, moisture, and humidity before water damage can occur in your bathroom. Water damage can be costly to repair and accounts for a sizable and growing percentage of homeowner insurance losses.8 A flood sensor is an effective way to protect the investment you're making in your bathroom.
A bathroom is primarily a functional space, but that doesn't mean it has to be boring. A smart speaker can bring an element of luxury and convenience to your bathroom: Listen to your favorite podcast, get the news, or listen to your favorite tunes while you shower.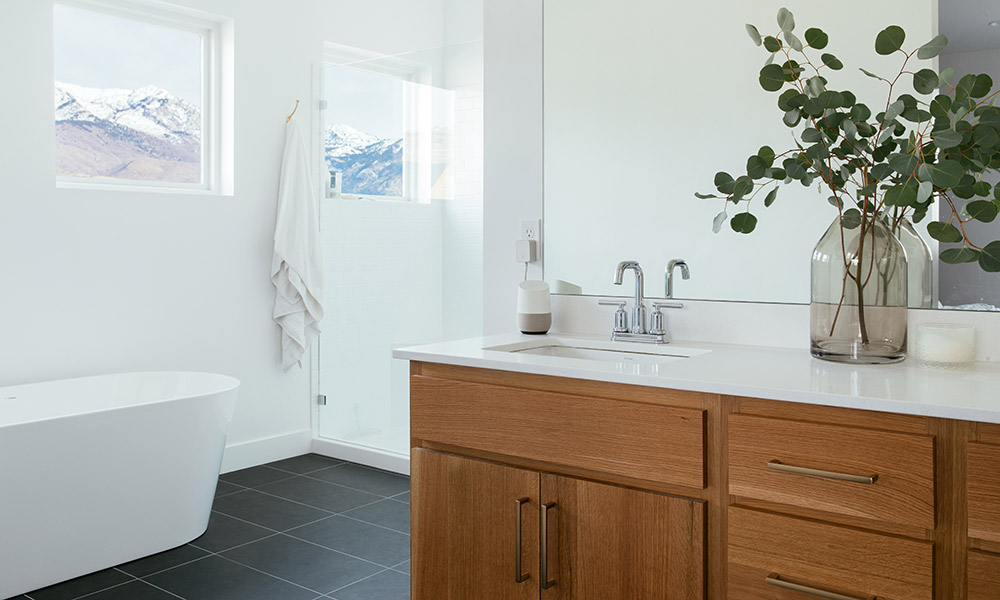 Learn more about making smart technology part of your home renovation.
Contact Vivint Smart Home at 800.646.1469 and speak to a home expert about how you can get a smart home that fits your needs and budget.
---
Sources