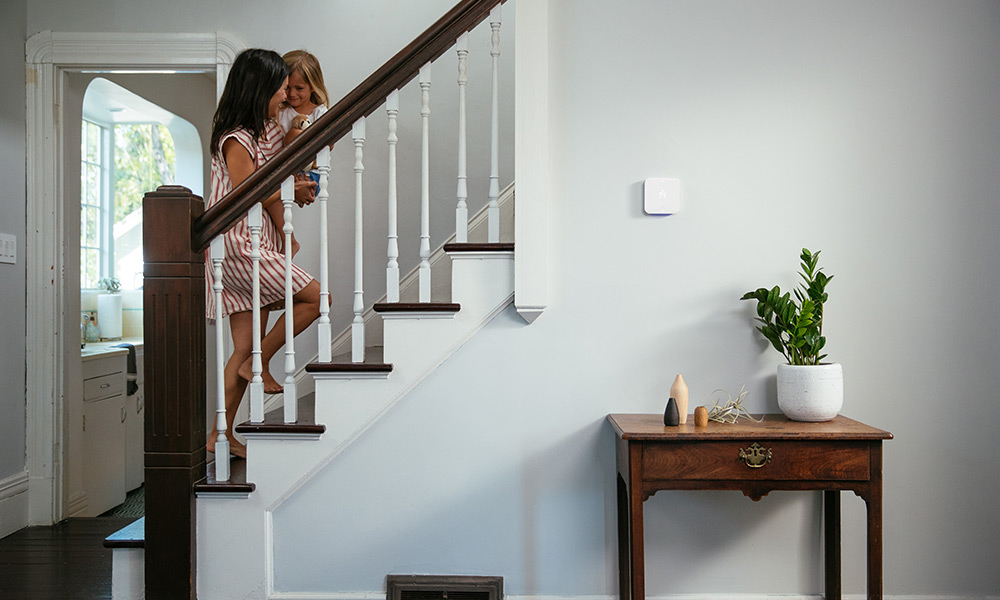 Homeowners across the country sacrifice comfort to save money on their energy bill each month. They set the temperature higher in the summer and lower in the winter because they think doing so will cut costs.
If you fall into that category, we have good news. Imagine saving money each month on utilities regardless of the season—no more bundling up indoors during cold months and enduring an uncomfortably warm house in the summer.
Energy-Savings Calculator
Plug your information into the energy-savings calculator below to learn how you're doing on your energy spend and discover how you can save energy and money.
Spend less. Stay comfortable.
Like many homeowners, you may be setting your temperature high in summer months and low during the winter to reduce your energy spend. But the good news is you don't have to. You can save money on your monthly utilities without sacrificing comfort. The Vivint Smart Thermostat is key.
Vivint Smart Thermostat
The Vivint Smart Thermostat provides smart temperature control that blends comfort and efficiency. Take a look at how it works:
To optimize energy and keep costs down, you want to maintain an average indoor temperature of 74 degrees year-round, regardless of outdoor temperature fluctuations.
But adjusting your thermostat manually to maintain that temperature can actually increase energy use and drive up utility prices.
As part of a smart home system, the Vivint Smart Thermostat adjusts the temperature for you based on your location and activity—conserving energy and saving you money.
What you could save with the Vivint Smart Thermostat
With the Vivint Smart Thermostat, you can enjoy year-round comfort inside your home while benefiting from reduced heating and cooling energy use of up to 12% throughout the year.​
A few more things you can do to cut energy spend
Go for the cold. Washing your clothes in cold water consumes less energy, which saves you money.
Wait till the sun goes down. Run appliances like the dishwashers, washing machines and dryers at night when utility companies charge less.
Invest in dryer balls. Using dryer balls decreases drying time, so you run the dryer less. Or try hanging clothes to dry.
Pay your hot water heater a visit. If you're heating water over 120 degrees, you're using up too much energy.
Pull the plug. Unplug appliances when you're not using them. They're still consuming electricity even if they're turned off.
See how you can get started with the energy savings and convenience of a smart home by calling 844.481.8630 for a free quote today.