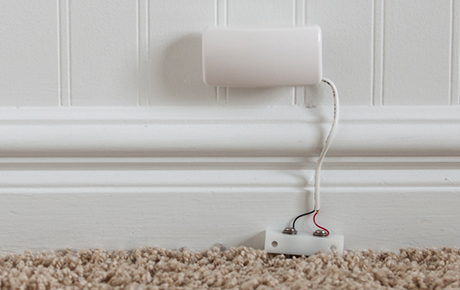 Spring runoff can cause damage far beyond the season. Flood sensors are a vital part of protecting your home and family from the rapidly rising water that spring can bring. The sudden downhill rush of water from heavy spring storms can wash away roads, homes and people. Properly placed, working, and monitored flood sensors can be the difference between life and death when the water rushes down, the creek rises, or the drainage canal goes over its banks.
Flood Sensors Save Lives
Flood sensors are not designed to save property. They are designed to save lives. Detecting floodwater when it begins to rise can mean that you and your family will have enough time to get to safer ground before disaster strikes. While the old myth says that floods are slow-motion disasters, the truth is that spring runoff does not follow that path. Storm drains, creeks, and even rivers can rise to dangerous levels in just minutes, leaving little time for you to react. Once the water has covered the road out, you are stranded and at the water's mercy. Flood sensors are your first line of defense and an essential part of your spring flood planning.
Unmonitored Flood Sensors are Useless
Having flood sensors does not mean that you and your family are safe, unless those sensors are monitored. You will not have time to take a walk and check for water seepage on the levee or in the road when spring brings a violent storm or the snow pack quickly melts after a hot day. An instant notification to your smartphone or computer is your best option.
Having a team of professionals backing you with constant monitoring and instant notifications is even better. There is no good reason to put your family in jeopardy while you wait for the weather station to issue a warning. You could already be on higher ground with a warning from your professionally monitored lifesaving flood sensors.
Be Absolutely Certain Your Flood Sensors Work
Spring runoff time is no time to play. The dangers of fast-rising water, river seepage, and washed away roads are very real and deadly. Trusting your flood sensors to a professional ensures that you and your family will not be left behind. Rushing water rescues are far too frequent with changing weather patterns all over the world. There is no good reason why you or your family should ever be involved in one. Trust an expert to make sure your flood sensors work before the water rises.
Water can be unpredictable at times. There is no time to waste. Properly installed, working, and monitored flood sensors can be a lifesaver. Call or contact Vivint online today to get the lifesaving flood sensors you need.