Affordable home prices and low crime rates have made West Virginia a popular destination for relocating families. The Mountain State has the lowest home prices in the United States, which may be surprising considering that the state is known for its natural beauty, abundant outdoor activities, and spectacular fall foliage.
West Virginia has a much lower crime rate than most other states. It has the third-lowest property crime rate in the South Atlantic region. Only 1.4% of the state's residents reported a burglary, theft, or similar offense in 2022. Western Virginia's ranking for violent crime is even lower, the second lowest in the region.
West Virginia's economy has traditionally been heavily dependent on coal mining, but much has changed in recent years. The state is now home to a thriving tech sector, and many former coal mines are being repurposed for solar energy production. If you want to work on the cutting edge of technology, enjoy the great outdoors, or just sit back and relax, West Virginia has just what you're looking for.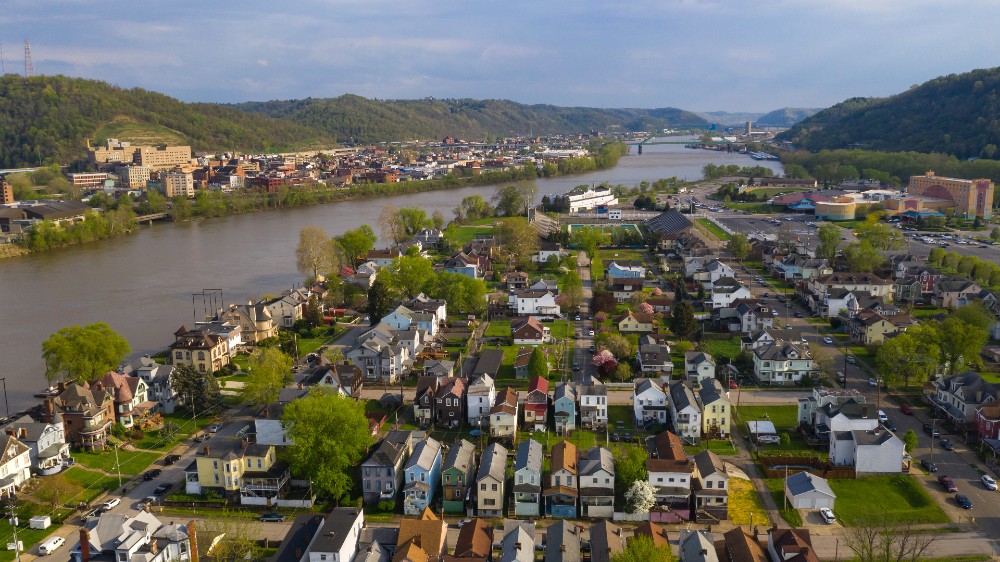 The safest cities in West Virginia
If you move to West Virginia, you can choose to live in a vibrant metropolitan area or a quaint country town. There are historic sites to visit and interesting museums to explore, and most communities are no more than a couple of miles from an amazing hiking trail. Charleston, Huntington, and Morgantown are popular relocation destinations for families who wish to enjoy a cosmopolitan lifestyle, while country towns like Point Pleasant, Keysar, and Weston are ideal for those who prefer to enjoy life at a slower pace.
Cheat Lake
Cheat Lake is a popular choice for families who move to West Virginia because four of the community's 10 public schools have an A rating. The town's estimated 10,187 residents often complain about potholes, but they rarely call 911 to report crimes. The community is named after the 13-mile-long reservoir it overlooks, which is a popular destination for boating and water sports. Other places of interest in Cheat Lake include the West Virginia Botanic Garden, Coopers Rock, and Coopers Rock State Forest, which is the largest state forest in West Virginia.
Morgantown
Nestled beside the Monongahela River in Monongalia County, Morgantown is a bustling community of 29,339 with a metro area with a population of around 150,000. It is also the home of West Virginia University. Morgantown's historic downtown area is packed with quaint shops and eclectic dining options, and, like all college towns, Morgantown has a thriving bar and nightclub scene. The city is close to both Interstate 79 and Interstate 68, which is why many commuters have chosen to move to the area. Morgantown's attractions include the Metropolitan Theater, Dorsey's Knob Park, the Monongalia Arts Center, and a 91-acre riverfront green space called Core Arboretum. Laurel Caverns in southwestern Pennsylvania, just 26 miles north of Morgantown, is also worth a visit.