The indoor camera that gives you sight and sound with just a touch.
A Vivint Smart Home Pro will contact you within 24 hours. Or skip the form and call now.
Get notified of suspicious activity, peek in on the pets, or talk to the kids no matter where you are. In other words, enjoy the peace of mind that comes with knowing home and everything in it is protected with the smartest indoor camera around.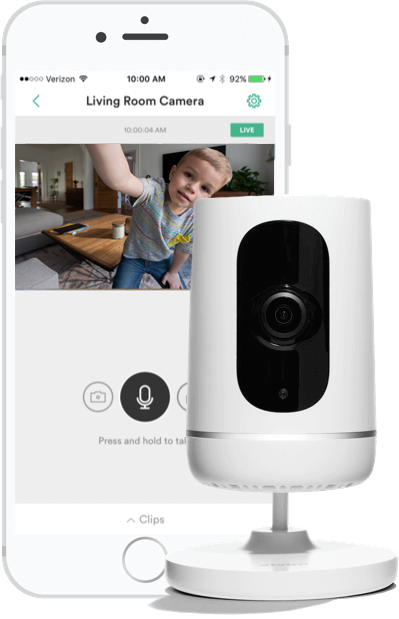 Two-Way Talk
See and speak with family at home while you're on the go.
One-Touch Callout
Your family can contact you instantly with the push of a button.
Infrared Night Vision
See what's happening in your home, any time, day or night.
Custom Notifications
Mobile notifications alert you when the camera detects motion.
Vivint Playback™
Lets you save 30 days of continuous indoor camera footage. (*Requires purchase of a Vivint Smart Drive).
HD + Wide Angle
Wide-angle lens plus HD resolution to catch all the action.
Swipe to see more
Specs
AC adapter
Input: 100-240V @ 50-60Hz AC, 0.2AOutput: 12VDC, 1.5A
Field of view
155° horizontal, 80° vertical
Night vision
3 high-powered infrared LEDs (850nm)with IR cut filter
Audio
Built-in speaker and microphone
Connectivity requirements
Works best with
High resolution digital color photos saved to your mobile device.
Ping gives you a crystal-clear view of your home. Crisp, high-definition video catches every detail while a wide-angle lens opens up entire rooms. Advanced image technology lets you see what you want to see, day or night. It's the next best thing to being there.
See what's been happening at home, at your convenience. When someone moves into Ping's field of view, motion detection activates recording of 20-second Smart Clips you can watch on-demand through your mobile device or Smart Hub panel. Plus, you can choose a specific area for motion detection and set the camera to be more or less sensitive to movement.
Two-way talk gives you a direct connection to home from your mobile device. Check in any time to see to see if your kids are staying out of mischief, if they're doing their homework, or just to say, "hi." And your loved ones can easily reach you, too.
Kids wandering the house after bedtime. Pets that go bump in the night. Life doesn't stop when the lights go out. But don't get out of bed. Ping's infrared night vision watches over your home from dusk to dawn so you can rest easy.
Our Vivint Playback DVR service records a full month of indoor camera footage. Watch clips on your mobile device or Vivint Smart Hub panel, and share important moments with friends and family. From capturing baby's first steps to figuring out who's been raiding the pantry, Playback makes sure you never miss a thing.
Set Ping cameras by the front and back doors to function as motion-activated security cameras that automatically record a clip when the alarm goes off.
Smart Home Integration
Night Vision
Smart Detection
Playback DVR
Our certified Smart Home Pros meet with you one on one to customize your smart home, install it for you, and make sure you know how everything works. You'll avoid DIY headaches and costly mistakes with professional installation. And our job's not done till you feel confident using your new smart home.
A Vivint Smart Home Pro will contact you within 24 hours. Or skip the form and call now.

Doorbell Camera Pro

Kwikset Smart Lock

Element Thermostat

Outdoor Camera Pro

Ping Camera

Smart Drive

Garage Door Control

24x7 Monitoring
Doorbell Camera Pro
Our doorbell camera automatically detects packages and uses light and sound to actively deter package thieves. With two-way talk, it also lets you answer the door from anywhere. And the app gives you quick access to your locks and garage door so you can let in the good and keep out the bad.
Kwikset Smart Lock
No more keys. With unique access codes everyone in the family—or even visitors—can come and go while your home stays secure. Control your locks when you're away using the Vivint Smart Home app. And with one-touch lockup, you can control your security system, lights, and locks with the touch of a button.
Element Thermostat
With the Element you get smart temperature control that perfectly blends comfort and energy savings. It automatically adjusts temperature based on home occupancy, and you can change settings manually from anywhere with your smartphone—potentially saving you up to 12% on your energy bill.
Outdoor Camera Pro
The Vivint Outdoor Camera Pro is the only surveillance camera that intelligently identifies and automatically deters true threats. It doesn't just record activity—it helps prevents crime. It's like having your own personal security guard patrolling your home around the clock.
Ping Camera
Ping, the world's first indoor camera with true two-way communication, keeps you connected to your family. View live and recorded video when you're away using your smartphone. And if you're home, call out to speak to family members with the press of a button.
Smart Drive
Nothing gets by you with Vivint Smart Drive. Save 24/7 video footage from up to four security cameras including indoor, outdoor, and doorbell to get a complete picture of your home's interior and exterior. Save footage for 30 days and easily browse minute by minute using event markers.
Garage Door Control
With all of the coming and going at a busy home, it's nice to know you don't have worry if the garage is open. Using the garage door controller, manage your garage using the Vivint Smart Home app and receive notifications if your garage door is open or if it failed to close. Left open? No problem. Close it from anywhere with your smartphone.
24x7 Monitoring
We take protecting what matters most a step further with our award-winning, 24/7 customer monitoring and support. Our smart home specialists are just seconds away, ready to respond to a potential emergency and send first responders when you can't be reached. If you're home, contact us through the convenient two-way talk feature on your Smart Hub.