Key takeaways
Most parents say trick-or-treating is safer now than when they were kids.
The average age at which parents start taking their children trick-or-treating is six years old, and 64% of parents say no one is too old to trick-or-treat.
46% of parents say someone has been cut or injured while carving pumpkins.
40% of parents admit they've lost a child while trick-or-treating.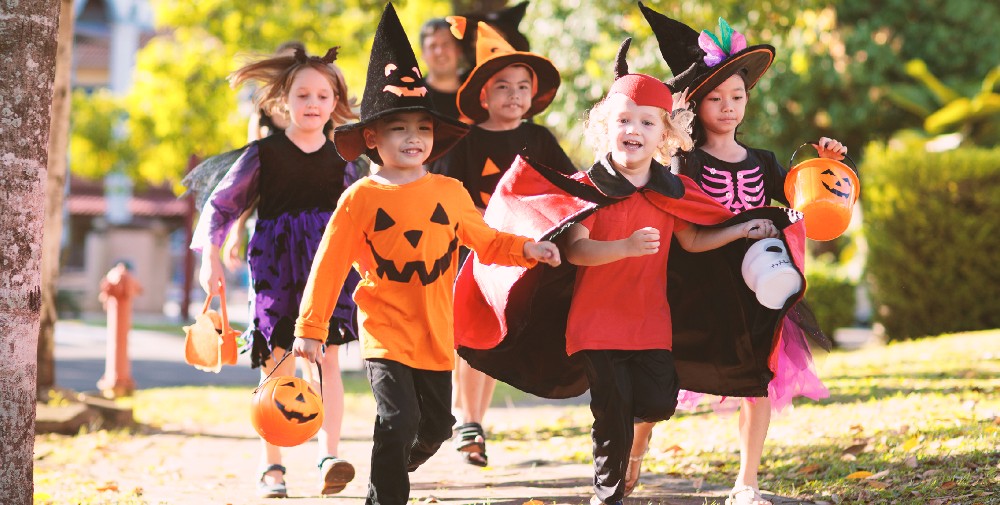 Will your festivities be fun or frightful?
Now that COVID-19 protocols have relaxed, many are venturing back into the streets to trick-or-treat this year. But ensuring everyone has a good time requires some ground rules, especially when children are involved. To give you some tips for a Halloween that's frightful in all the right ways, we asked more than 1,000 American parents how they let their kids run amok on Halloween and what boundaries they set to keep them safe and sound.
Halloween rules
First, we asked parents about the rules they set for their kids on Halloween. How do the rules keep their kids safe, and how do they keep others safe from them?

Even though most of the parents we asked said trick-or-treating is safer today than when they were kids, less than half said they're letting their kids do it by themselves this year. The age at which parents typically started taking their kids door-to-door on Halloween was around six years, and most of them said that no one is too old to trick-or-treat (64%). However, some U.S. cities beg to differ, even going so far as to charge over-age trick-or-treaters with a misdemeanor. Apparently, some candy is strictly for children.
In addition to run-ins with the law, there are some other pitfalls trick-or-treaters should be aware of. Whether or not they planned to accompany their kids, most parents warned them to knock only on doors of homes that are decorated for the occasion (69%), respect people's property (58%), and never approach a darkened doorstep (57%). Not everyone wants to participate in Halloween, whether for religious reasons or fears related to COVID-19. But a well-lit porch does more than let trick-or-treaters know they're welcome; it's a safety measure ensuring kids can be seen at all times.
More than half of parents said they let their kids trick-or-treat on Halloween, and nearly all (96%) have let them do it in their own neighborhood. Many kids have also filled their candy baskets at the mall (55%), their school (49%), or a community center (43%). Only 26% of parents allowed kids to trick-or-treat in an apartment complex. Many of these communities have lots of stairs to climb, and if parents don't follow kids up each flight, they could lose sight of them.
Whether or not you take the kids trick-or-treating this year, don't forget to carve pumpkins and decorate the house first, like most everyone else on the block (52-60%). If you prefer more low-key Halloween festivities, consider trunk-or-treating. Nearly half of our respondents have done this fun and safe activity with their kids (46%), and you're about to find out why.
Trunk-or-treaters
Trunk-or-treating is a creative alternative to the typical house-hopping Halloween tradition. Let's learn more about this trend and see where it's been the most popular lately.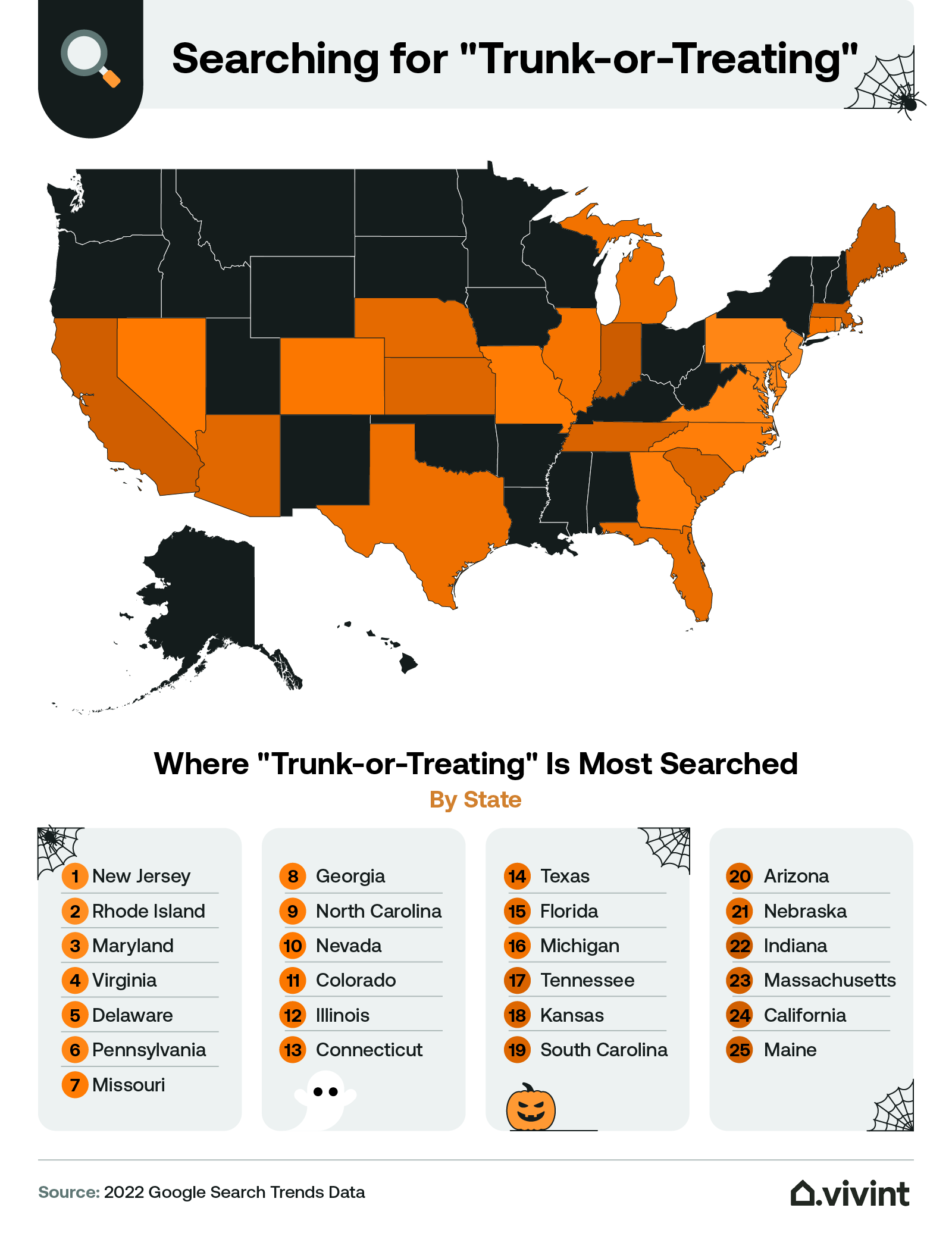 Trunk-or-treat attendees create a miniature version of the classic neighborhood-sized activity by dressing up, adorning their cars with spooky decor, and taking kiddos from trunk to trunk to collect their Halloween treats. These gatherings can have fewer "tricks" to worry about, with kids always kept within eyesight. And since they tend to be relatively small, trunk-or-treating activities can also limit exposure to strangers (a particular concern for many during the height of the pandemic). This also offers a less overwhelming way for sensitive young ones to safely dip their toes into the trick-or-treating experience.
Ideas for themed decorations and costumes to make your trunk-or-treat special are just a click away. Over the past five years, New Jersey must have been home to some spectacularly-decorated soirees, with more residents searching online for "trunk-or-treating" than any other state. Many other East Coasters have also hopped on the trend; Rhode Island, Maryland, Virginia, Delaware and Pennsylvania were the other top states where the term was searched most. But Massachusetts and Maine didn't even make the top 20—maybe trunk-or-treating hasn't made it that far up the coast yet.
Halloween shenanigans
Next, we asked how many parents have been victims of "tricks" gone awry. Were a few smashed pumpkins the worst of their troubles, or could there be more to fear this year?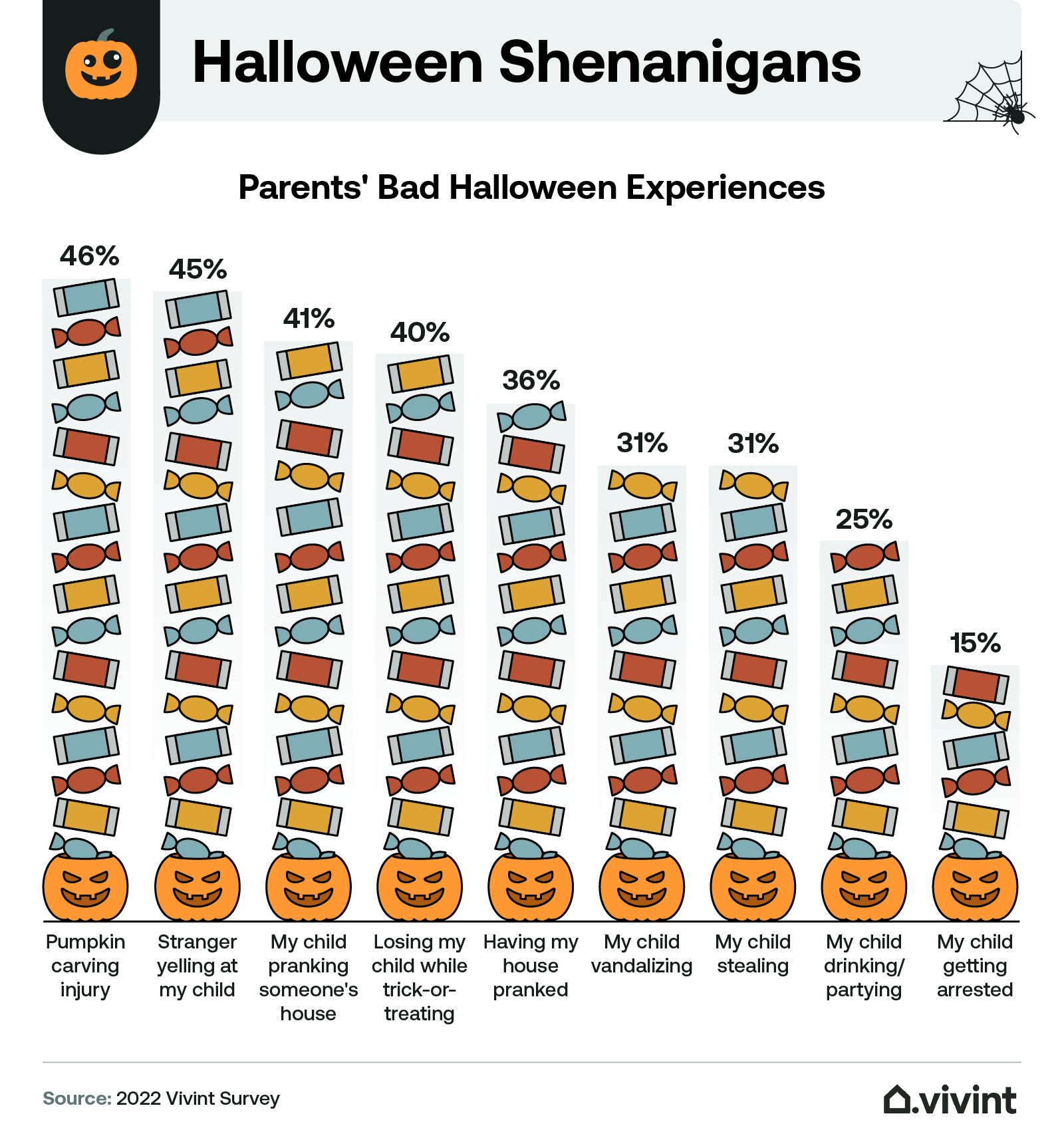 Tricks are baked into Halloween traditions, both old and new. Trick-or-treating once meant that kids would not only dress up but actually perform in exchange for their treats. These days, they don't even need to wear a costume to get free candy—if you refuse them, they might just smash your jack-o-lantern.
Though these illuminated carvings were (ironically) once meant to protect the home, evil spirits are less of a concern today than they once were for Americans on Halloween. Far more problematic are the pranks gone wrong, injured or lost kids, vandalization and theft that have replaced the harmless "tricks" of ancient times.
Pranks were involved in the majority of bad Halloween experiences reported by the parents we surveyed. Some caught their own kids in the act (41%), while others' own homes were the victims (36%). You can catch pranksters in the act with a security camera, which might also make for some freaky entertainment on Halloween night.
The single most common bad experience to befall our survey respondents was a pumpkin-related injury (46%). But even scarier than carving jack-o-lanterns without the right tools and supervision is the thought of losing a child. Keeping kids safe at home is hard enough; it's entirely another when you're out in the dark surrounded by strangers. That's likely why so many (40%) have lost track of their kid while trick-or-treating.
Celebrating with caution
Although Halloween is the scariest holiday, it should only be for the right reasons. Remind kids to only knock if a home looks welcoming, whether with festive decorations or at least the lights on. For little kids, consider a miniature gathering like a trunk-or-treat where they can dip their toes into the spooky festivities before galavanting around the neighborhood in the coming years.
However you celebrate this year, ensure there's proper adult supervision, especially when carving pumpkins or taking to the streets. The only lost fingers should be plastic ones in the punch bowl, and kids should only get lost in their pile of candy. You might want to keep an eye on that aspect of the fun, too, and remind them to brush their teeth before bed.