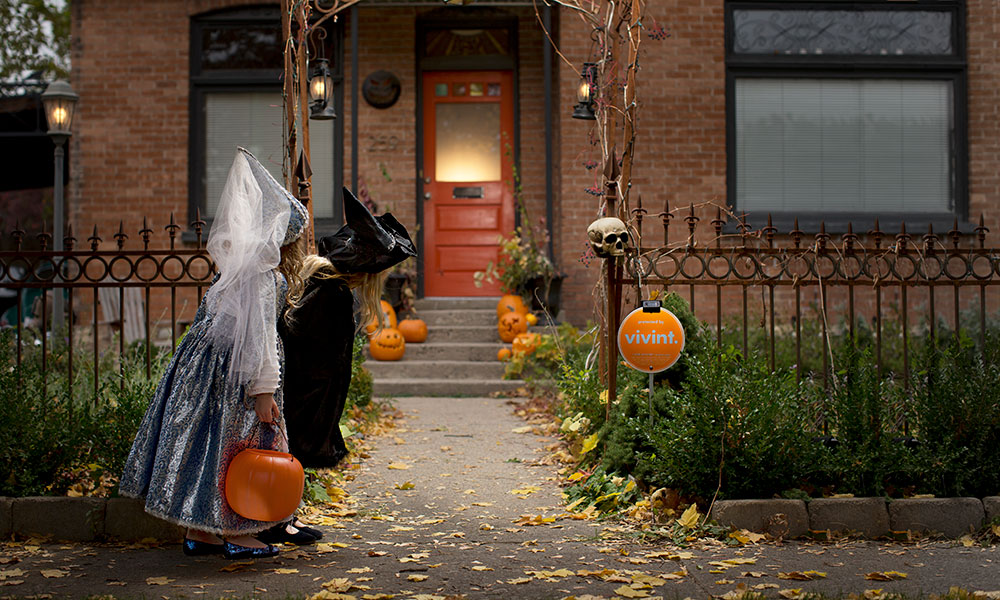 Whether you're dressing up in costumes, carving pumpkins, or handing out candy to trick-or-treaters, most people will agree Halloween is just plain fun.
To really get into the spirit of Halloween, you've got to set the mood. If you have a smart home, you have a plethora of tools at your fingertips that will help you trick out your home from the inside out.
Check out some of these smart Halloween ideas:
Up the ante on your haunted house with sound effects
Halloween isn't complete without at least one haunted house experience, so why not try it with your own home? Transform your home into a haunted house by dimming the lights via the Vivint app, adding a few cobwebs, and enlisting some willing participants to pop out and scare your guests at just the right time.
If you really want to add some spook to your haunted house, use your smart home enabled devices to stream scary sound effects like screams, creaky doors, evil laughs, and werewolf howls. There are hundreds of Halloween-themed sounds to stream or download, so be creative and let your imagination run wild.
Cast an eerie glow with spooky lighting
Spooky lighting is one of the best Halloween home décor ideas to set the mood for Halloween, and it's also one of the easiest.
Don't limit eerie glows to the inside of your house, either. Once you set up your Halloween decorations outside, you can replace bulbs in your landscape or outdoor lighting with different colors, like green, purple, orange, and even black. You can even start practicing for Christmas by stringing lights made especially for Halloween.
Create killer Halloween decorations outside
Most neighborhoods have that house — the one that goes all out for the holidays with lights and decorations. Some even have full light and sound shows for passersby, thanks to a mixture of smart home technology, software, and a lot of time.
Even if you don't put on a show, you can create a pretty impressive outdoor display for Halloween. Set up a graveyard with cardboard tombstones in your front yard, stuff old clothes to make a scarecrow or zombie, or hang toy bats and spiders from your front porch. It doesn't have to be a Hollywood setup to make a clever display.
Set the mood with the right music
Nothing sets the tone for a party or holiday quite like music. With a Google Home or Amazon Echo, you can stream your favorite Halloween playlist. Songs like "Monster Mash" and "Thriller" are sure to get everyone in the spirit.
Need a little inspiration? Use this Halloween music playlist for parties at your Halloween bash:
"This is Halloween" (from The Nightmare Before Christmas)
"Monster Mash" (Bobby "Boris" Pickett and the Crypt-Kickers)
"Thriller" (Michael Jackson)
"Main Theme" (from Halloween)
"Somebody's Watching Me" (Rockwell)
"Werewolves of London" (Warren Zevon)
"I Put a Spell On You" (Bette Midler from Hocus Pocus)
"Ghostbusters" (Ray Parker, Jr. from Ghostbusters)
"Twilight Zone Theme" (from The Twilight Zone)
"Love Potion #9" (The Clovers)
Use your doorbell camera to "trick" or "treat"
The best thing about a doorbell camera is the ability to see who's at your front door. For everyday use, this is both practical and safe. But if you need smart Halloween ideas, a doorbell camera can help you have a little fun.
The doorbell camera's two-way talk feature comes in handy when trick-or-treaters arrive at your door. Spook them by talking to them from the doorbell or by playing eerie sound effects.
Staying safe with your smart home
While your smart home allows you to be the spookiest, most festive home on the block, it also keeps you safe.
If you are planning on enjoying Halloween festivities from somewhere other than your own home, smart home technology can help ensure the safety of your home — and keep Halloween pranksters at bay — with outdoor cameras and professional security monitoring.
Whatever smart Halloween ideas you choose to set the mood this season, make sure you have fun with it!