Key takeaways
Americans spend over 2.5 times more per month eating at restaurants than they do on home security.
1 in 10 Americans are willing to give up AppleTV, Disney+, or Hulu to afford home security.
Americans lose an average of $311 when thieves steal items from their cars. Outdoor security cameras could deter such theft and cost about the same as two months of food delivery.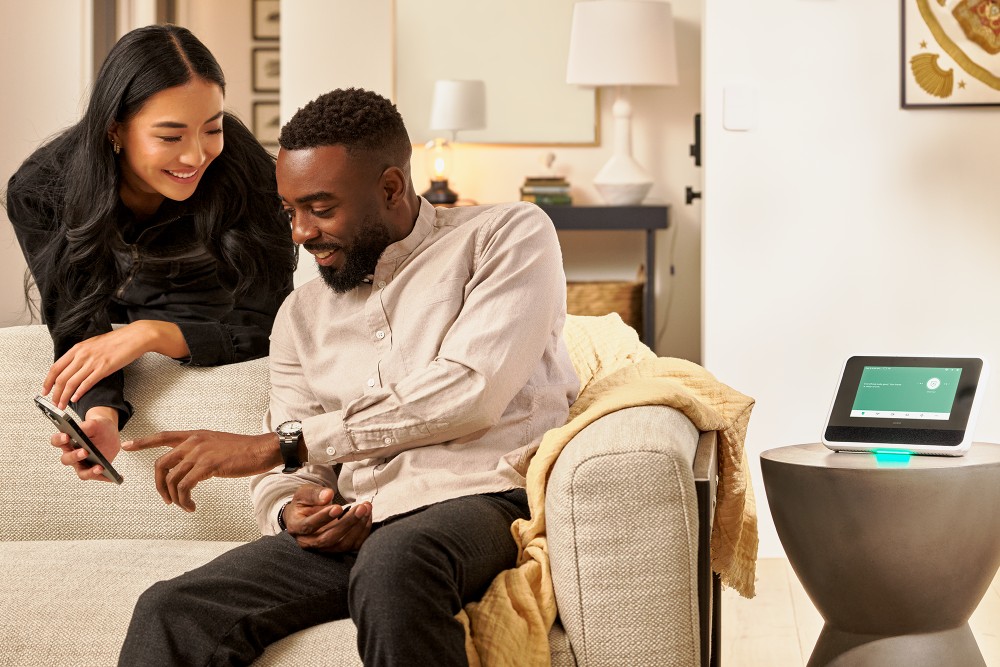 The importance of home
With the growing popularity of remote work, many Americans spend more time at home than ever. Home is also where we unwind, visit with friends, eat together, and sleep. For those who own their home, it's also one of our most valuable assets. As such, our homes deserve to be protected, but do most people make home security a priority or an afterthought?
To find out how people prioritize home security, we surveyed 1,000 Americans about their monthly spending habits. How much does the average American spend monthly on dining out, streaming services, and other lifestyle expenses versus home security investments? What are the costs of sidelining home security for entertainment? Read on to find out.
Style over safety?
There are many outlets fighting over budget space, but not all of them can win. Which non-essential items and services do Americans spend the most money on monthly? We asked survey participants about their monthly lifestyle spending habits and which areas of their budgets they would be willing to cut if things got tight. Let's see what they had to say.

The iconic chef James Beard said, "Food is our common ground," and it was certainly the most common monthly lifestyle expense reported. Restaurant dining was the most common monthly budget item, as 66% of respondents spent an average of $156 each month to eat out. Coffee was the second most common expense, with 57% of individuals having spent an average of $45 per month to get their java fix. In addition, 36% of monthly budgets included $115 for food delivery and $83 for alcohol.
Streaming services were another popular lifestyle expense, with seven of them among the 20 most common budget items. The most popular streaming services were Amazon Prime (52%), Netflix (50%), Hulu (34%), and Spotify (29%), each costing between $13 to $18 monthly. Video games were another popular form of entertainment; over one-quarter of respondents spent $73 monthly to enjoy them.
Among all the food and binge-watching, home security ranked relatively low on the list. Only 11% of lifestyle budgets included it, at an average of just $61 per month. In fact, people spent more than 2.5 times as much money dining at restaurants than they did securing their homes. However, those who invested in home security believed strongly in its value: 95% would not cut home security from their budgets if money got tight, making it the least likely expense to be cut.
Risking it all
With so few people investing in home security monthly, we wondered what they were risking to save a few dollars each month. Let's look at some of the costs Americans could face by forgoing home security measures and what they could give up to improve their home's security.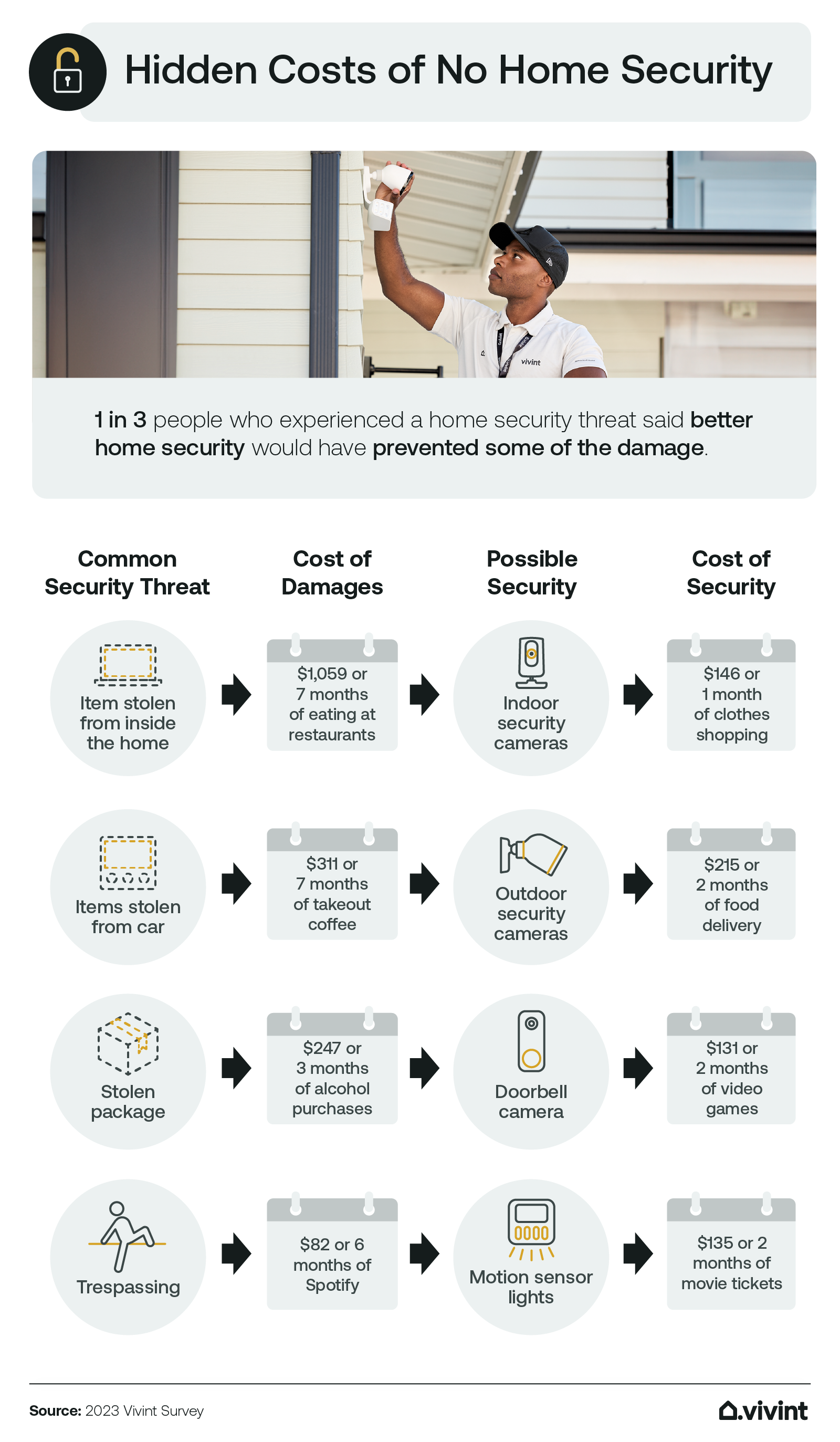 A lack of security can make your home a target for criminals, but simple home security measures can help prevent or reduce damages and loss. Indeed, 1 in 3 individuals who experienced a home security threat said better security measures could have prevented some of the damage.
One of the worst home security threats is burglary, which results in an average loss of $1,059, about the same as seven months of dining out. Homeowners can help prevent that loss for the low cost of $146, or one month of clothes shopping, by installing indoor security cameras. Indoor security cameras can alert you to a burglary in real time, set off alarms, scare intruders away, and help police identify criminals and recover stolen goods.
Outside your home, having items stolen from your car results in an average of $311 in damages, about the same as seven months of takeout coffee. If you prefer to keep sipping your Starbucks, you can install an outdoor security camera for the cost of two months of food delivery ($215).
Similarly, having a package stolen by a porch pirate will lose you an average of $247, or three months of alcohol purchases. Investing in a doorbell camera could serve as a deterrent and would only cost you two months of video games ($131).
Simple solutions like spotlight cameras and motion sensor lights can prevent many other security annoyances, such as trespassing and mail theft. Implementing these or other measures would cost less than two or three meals at a restaurant.
Affordability of home security
Having a few key security measures doesn't cost much but can prevent expensive headaches down the road. However, many people think home security is more costly than it actually is. How do people's perceptions of home security costs stack up against reality?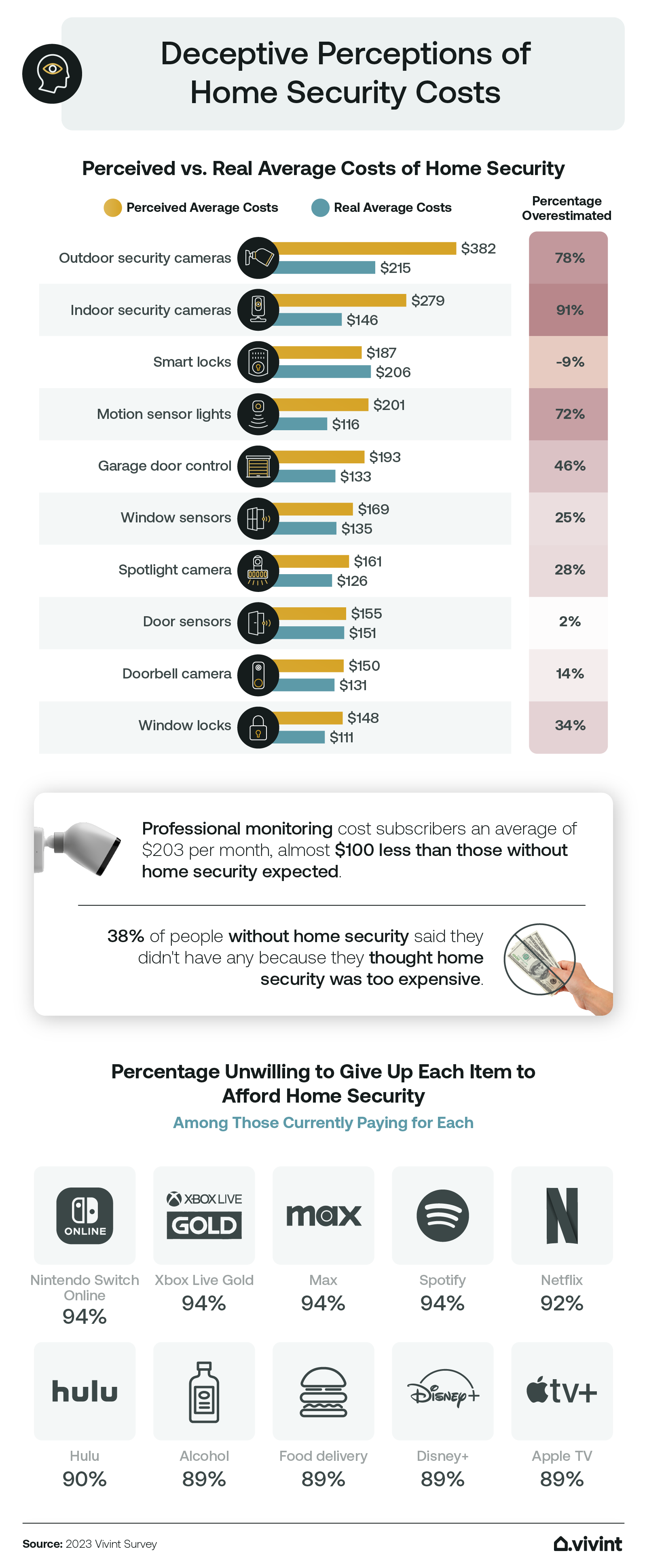 To determine the difference between home security cost perceptions versus reality, we asked 890 people without home security systems how much they thought home security measures cost. We then asked 110 people with home security systems what those measures actually cost them and compared the difference.
In many cases, there was a significant gap between perceived and actual home security measure costs. Those without security measures overestimated the cost of indoor security cameras by 91% and outdoor security camera costs by 78%. In fact, respondents without home security overestimated the cost of every security measure except one; they slightly underestimated the cost of smart locks.
We may have to give some credit to those that were uncertain about home security pricing as they can sometimes vary. To ensure that you are getting the right devices for your security and budget needs, you should work with a representative to customize a system just for you.
With system personalization options available, tThe high rates of cost overestimation are discouraging because 38% of people without home security measures didn't have them because they thought home security was too expensive. Such misconceptions leave a lot of homes unnecessarily vulnerable to crime.
Furthermore, most people are unwilling to sacrifice other lifestyle expenses to fit home security into their budget. Over 90% of respondents said they wouldn't give up Nintendo Switch Online, Xbox Live Gold, Max, Spotify, or Netflix. Additionally, only 1 in 10 Americans would be willing to give up Hulu, Disney+, or AppleTV to afford home security.
But cost wasn't the only reason for not investing in home security; other reasons included the following:
Believed their neighborhood was safe enough (39%)
Didn't want to deal with false alarms (9%)
Concerned about personal privacy (8%)
Didn't know how to install (7%)
Believed home security was ineffective (6%)
Some respondents had to forgo home security despite wanting to invest in it: almost one-quarter of renters who didn't have home security didn't have it because their landlord would not allow it.
Prioritizing safety and security
While it's understandable that entertainment and lifestyle expenses are important to many Americans, it's equally crucial to prioritize the safety and security of one's home. For the cost of just one or two months of a single lifestyle expense, you can install home security measures to help deter crime and reduce damages to your home. Home security protection doesn't require much sacrifice but it can bring peace of mind that will make life all the more relaxing when it's time to Netflix and chill.