Enhanced by Sky
Built-in smart assistant that automates comfort and energy savings.
Mobile Control
Access climate controls from anywhere with the 4.5-star Vivint Smart Home app.
Echo + Element Thermostat
Just ask Alexa to adjust the temperature for hands-free control.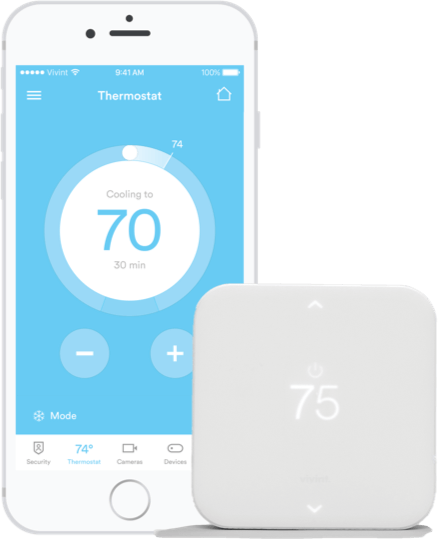 Custom Notifications
Get mobile notifications when Element self-adjusts.
Minimal Design
Designed to blend with your home interior.
Humidity Sensors
Tracks humidity levels to help optimize indoor air quality.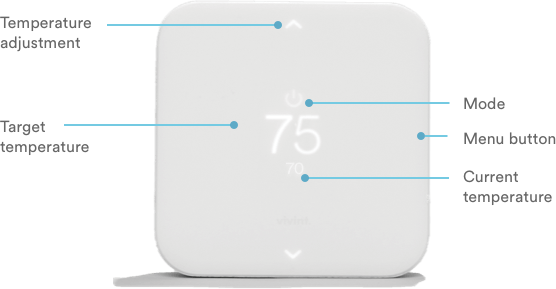 Size
115mm h x 115mm w x 24mm d
Battery
Battery powered (4AA) or 24VAC wired power from HVAC system
Sensors
Temperature; Humidity, Proximity, Ambient light
Compatability
Works with common heating & cooling systems, including conventional forced air, radiant, and heat pump. Up to 3 stages of heating. Up to 2 stages of cooling. Supports a wide range of fuels including natural gas, propane, electric, fuel oil, and geo-thermal. Built in fan timer.
Connectivity requirements
Z-Wave
Warranty
Limited warranty
The wireless thermostat with Vivint Smart Home integration
Vivint Element Thermostat fits seamlessly into your Vivint Smart Home system. Wireless thermostat controls let you start the air conditioning on your way home, or keep your home office toasty during a blizzard—all from the same mobile app that controls your locks, cameras, and garage door.
Built-in Smart Assistant keeps you comfortable while conserving energy
Keep your home temperature exactly where you want it with Smart Assistant. Using geolocation, in-home sensors, and information about your local climate and household, Smart Assistant auto-adjusts Element to your preferences when you're home—and conserves energy when you're not, even if you forget to adjust it.
Keep your hands free with a wireless thermostat with full voice control
Google Home works hand-in-hand with Element, letting you adjust temperature settings with only your voice. Turn on the heater without interrupting your kids' bedtime story, or cool down the kitchen during dinner prep—not to mention everything else the Google Home can do with your simple voice commands.
Custom alerts from your wireless thermostat
Set custom notifications for Element to know the second your home's temperature changes. Receive a mobile alert if the housesitter cranks up the heater while you're away for the holidays, or a reminder that the air conditioner turned on in time for your mid-summer family reunion.
Humidity sensors let you control your home's climate
Along with controlling temperature, Element also measures humidity to provide even more control than the average wireless thermostat. Lower your home's humidity without making it too cold, and ensure that any humidifiers or dehumidifiers are getting your home's climate right where you want it, year-round.
Wireless thermostat with
 minimalist design
No more boring LED control panels that look like props from a 1960s B-movie. Element features a sharp, stark design that blends right into your home's interior décor. The easy-to-read display illuminates on approach to show you current and target temperatures at a glance.
Professional installation from Smart Home Pros
Smart Home Pros will integrate your Element wireless thermostat with your smart home system to ensure hassle-free performance.
Read what our customers are saying