People all over the United States are starting to see the environmental and financial benefits of installing solar panels on their homes. The energy from the sun is the cleanest, most renewable energy resource we know about, and solar panels have been shown to lower a household's energy bill over time.
However, solar panels need direct sunlight to produce energy, and sometimes the sun isn't out. That's where solar battery storage comes in. Without a solar battery, a solar energy system wouldn't be able to store energy for times when the sun isn't shining brightly.
In this guide, we explain what you should know about solar battery storage systems. We'll tell you what they are, how they work, and explore different types of solar batteries.
What are solar batteries?
A solar battery is a cell that stores any extra energy that your solar panels create beyond what's needed to power your home. As the name implies, solar panels need the sun to operate. The more direct sunlight your panels are exposed to, the more electricity they produce. This means that solar panels generate more energy on super sunny days than they do on cloudy days. And they produce very little to no energy at night.
Most homes with solar energy systems are still hooked up to a utility company's power grid for this reason. During the day, solar panels provide all the energy their homes need. And at night, their homes can still use electricity from the power grid.
But what happens on a particularly sunny day when your panels create more electricity than your home needs? On a grid-tied solar system, the excess energy would drain back into the power grid to be distributed among your neighbors.
Most grid-tied panel systems come with a special meter that keeps track of how much energy you give to the power company. Many utility companies offer credits to homeowners who give them their extra solar energy. This process is called net metering.
But what if you want to save your excess solar energy to use during a power outage, at night, or on a particularly cloudy day? In that case, you would need a battery for your solar panel system. A solar battery backup helps you make the most of your solar energy system and limits your dependence on a utility company's electricity grid. You could even achieve energy independence.
How solar batteries work
So how do solar batteries work? The way solar power systems work can be a bit complicated. Power doesn't come down from the sun in a usable form. The energy your panels produce is in the form of direct current (DC) electricity, but your home can only run on alternating current (AC) electricity. The DC power has to be converted to AC power before you can use it.
Solar batteries can only store DC electricity, which means that once converted to AC electricity through an inverter it needs to be converted back before it can be deposited into a battery.
We'll take a closer look at how this process works in the next few sections.
Solar panels generate DC electricity
Each solar panel has a sheet of solar cells. At the center of each cell are two pieces of silicon, a semiconductor material, sandwiched together. The top sheet of silicon has a negative charge, while the bottom one has a positive charge.
When photons (light energy particles) hit a solar cell, they shoot through the top layer of silicon to the bottom layer. In the bottom layer of silicon, the photons transfer their energy to electrons. The loose electrons use the energy to spring up in the top layer, forming an electric current.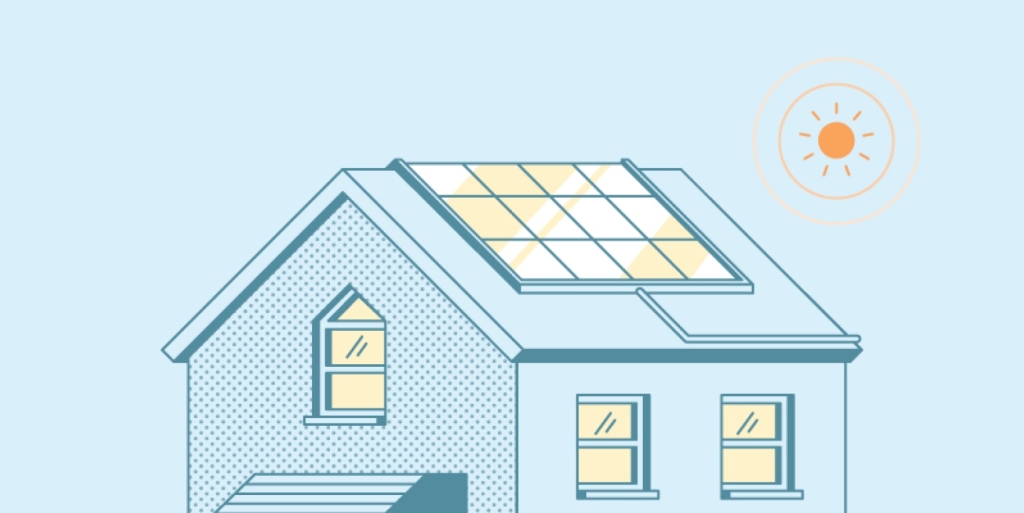 An inverter converts DC electricity to AC electricity
Because solar panels produce DC electricity, they have to send the energy to an inverter to change it to AC electricity. Inside an inverter, there are four transistors that open and shut rapidly. The first and third transistors open and shut at the same time, and the second and fourth transistors open and shut at the same time.
Every time electricity hits a shut transistor, it's forced to change direction. After it changes direction enough times, the DC electricity becomes AC electricity. As the sets of transistors open and shut gradually, the shape of the electricity changes into a sine wave that's safe to use in your home appliances and systems.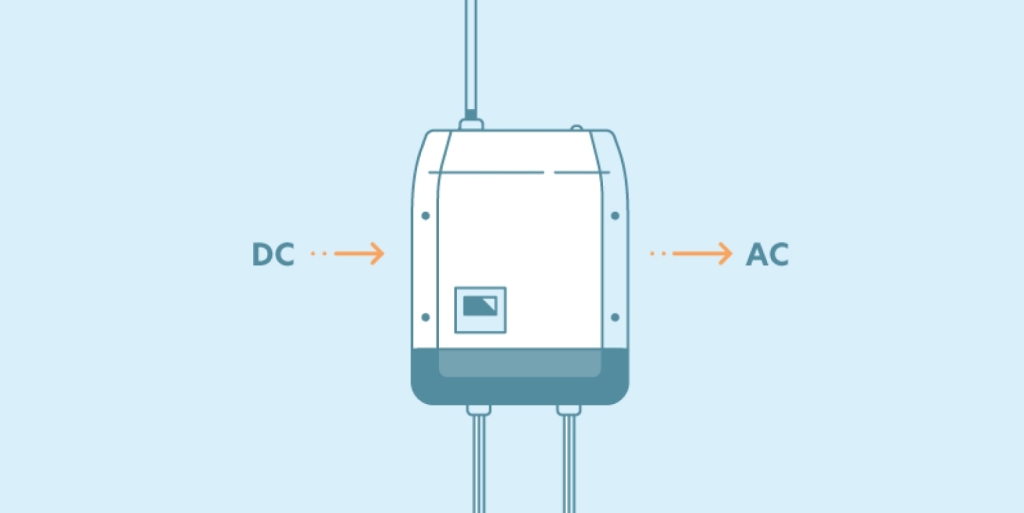 AC electricity powers your home
Now that the electricity is in a form that you can use, the inverter sends it down a wire to your breaker box, where it can be sent to power all the electrical machines in your home.
If you have a net-metered system without a battery, any extra energy will be sent down another wire into your utility company's power grid. Typically, your utility company will reimburse you for the excess electricity in the form of a credit on your next electric bill.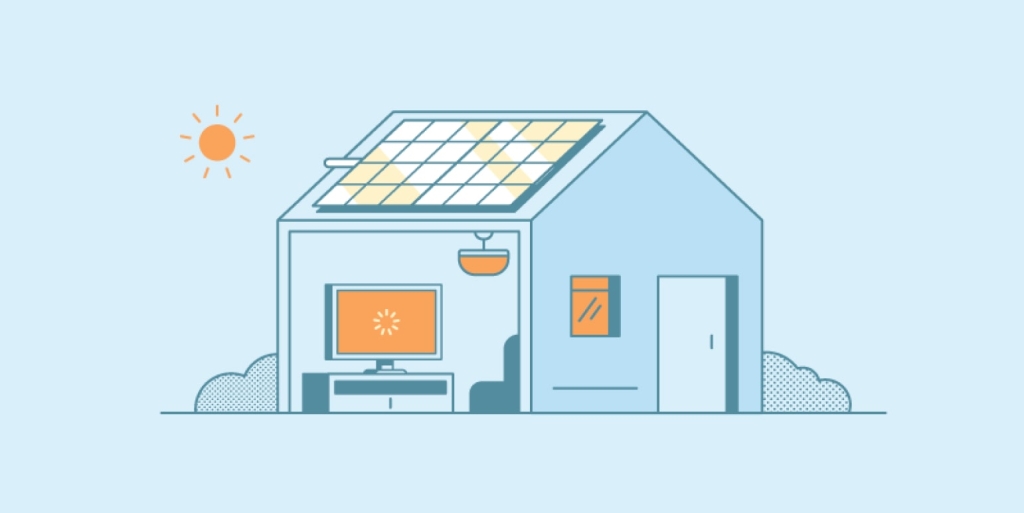 Excess AC electricity charges your solar batteries
If you have solar battery storage, the extra energy that isn't used to power your home is released into your battery. Solar batteries can be either lithium-ion batteries or lead-acid batteries. Lithium-ion batteries are generally more reliable and last longer.
The way energy enters your battery will depend on your battery storage system. There are a few types of solar battery setups that work differently.
Batteries that use a DC coupled storage system receive DC electricity directly from a solar panel before it has a chance to enter an inverter. The DC energy isn't changed into AC energy until it's time for it to enter your home or until the battery is full and it needs to send energy to the power grid. At that point, the battery sends the electricity down a wire to an inverter so that it can be changed to AC power.
Batteries that use an AC-coupled storage system receive energy after it has already been converted. In this type of system, DC energy from solar panels is sent to the inverter and changed to AC electricity. It then enters the home. Whatever electricity is left over is sent to a separate inverter and switched back to DC electricity so that it can be stored in the battery.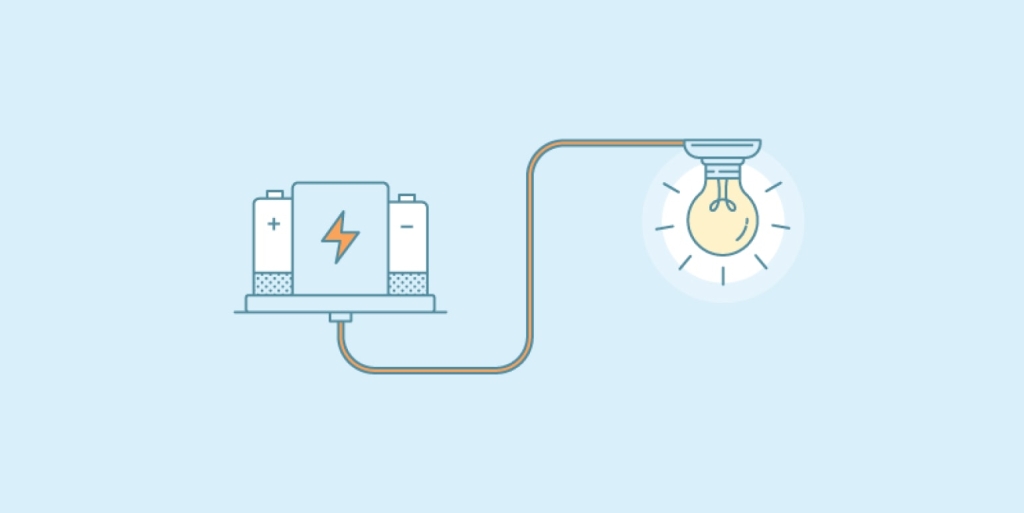 Stored solar battery electricity powers your home
On days that your panels don't generate enough energy, electricity flows from your solar battery into your home. If you have a DC coupled battery, the battery power will have to go through your solar energy system's inverter before entering your home. If you have an AC coupled battery, the battery power will have to flow through the battery's converter before it can enter your home.
Each system has its benefits and drawbacks. DC coupling is less expensive because it doesn't require its own inverter. It's also more efficient than AC coupling because electricity only has to be converted from DC to AC once. Any time an inverter transforms electricity, some energy is lost.
However, DC coupling can only draw energy from solar panels and not from a power grid. You also can't use your DC coupled battery for backup power during blackouts. Solar inverters have a mechanism that shuts off the system when the power goes below a certain level. This is to stop solar electricity from shooting through power lines while lineworkers are making repairs.
A battery system that uses AC coupling can take in energy from solar panels as well as from a power grid. An AC coupled battery can also keep working during a power outage. Because an AC coupled system has its own inverter, it doesn't need to send energy back through the solar panel's inverter (which shuts off during an outage).
How many solar batteries does your home need?
The number of solar batteries you'll need for your home depends on factors like how much energy your household consumes, what you want to power, and when you want to use your battery. On average, a solar battery has around 10 kilowatt-hours (kWh) of energy.
If you only want to use your battery during a power outage, one battery might be all you need. If you want to use your battery when your panels aren't creating electricity at night or on cloudy days, two to three batteries might do the trick. However, if you want complete energy independence from a power grid, then you may need as many as eight to 12 batteries.
When you reach out to Vivint, one of our specialists will be glad to answer all your questions about solar energy systems, including how many batteries you might need to power your home.
How much do solar batteries cost?
The total price to buy and install a solar battery depends on factors like the type of battery you use, the type of inverter you have, and how difficult it is to install your battery. A Vivint professional can help you design a solar energy system that fits all your energy needs.
They'll also show you financing plans that can help you afford a solar system on a budget. And they'll educate you about the many ways that going solar can save you money in the long run.
For example, the federal government offers a federal solar investment tax credit (ITC) that can reduce your taxes for 2022 by up to 26% of the cost of your solar energy system.
How long do solar batteries last?
The more you use your solar battery, the shorter its life span. For example, if you only use it during power outages, it might be able to outlive your solar panels (25 to 30 years). If you use your battery to supplement your solar panel system when your panels don't produce enough energy (like at night), then the battery might only last 10 to 20 years. If you use your battery as the only power source for your home, it may last less than 10 years.
At Vivint, you can find durable solar batteries like the Tesla Powerwall. The lithium-ion battery comes with a warranty that will cover you if the battery drops below 70% of its capacity within 10 years. And the LG Chem RESU battery is warrantied to retain at least 60% of its capacity by 10 years or an energy output of 22.4 megawatt-hours (MWh), whichever happens first.
Solar battery FAQs
If you're still trying to decide if solar batteries are for you, keep reading as we answer some commonly asked questions about them.
What happens to power when solar batteries are full?
Any electricity your panels produce—beyond what's needed to fill your battery—needs to be diverted. If you have an off-grid setup, extra electricity is sent through the inverter to be used by any load attached to your electrical circuit. An off-grid solar energy system can't produce more energy beyond what's needed to fill your battery and power your home.
If you have a grid tied system, extra power is sent back through your utility company's grid power system to be sent out to other energy consumers. Grid-tied solar energy systems typically come with bi-directional meters that measure the amount of energy that your system sends into the power grid. Your utility company will generally issue you a credit on your utility bill for the amount of energy you send into their power grid.
How can I increase my solar battery life?
A solar energy system with connected batteries is a low-maintenance system. But there are a few things you can do to help your batteries last as long as possible.
Don't use too many batteries. Using too many batteries increases the likelihood that they'll charge unevenly, causing some batteries to wear out faster than others. If you can, use 16 batteries or less.
Rotate your batteries periodically. Batteries can receive different amounts of charge depending on where they're located. Your installer will be able to answer questions about when and how the batteries in your particular system need to be rotated.
Keep your batteries charged as much as possible. Leaving batteries uncharged for long periods of time can decrease their battery capacity.
Upgrading to a smart home? Discover how Vivint can help
Solar energy has a lot of benefits. It lowers your impact on the planet, saves you money, and helps reduce your dependence on your utility company. Pretty much the only downside of solar energy is that it's dependent on the weather.
A solar battery solves this problem. It lets you store the excess energy generated by your panels for later use. Connecting a battery to your panels can help you get the best possible value from your solar energy system.
If you're considering adding solar panels to your property or making other enhancements to your home, check out Vivint's quality smart devices. On our site, you'll find smart products like thermostats and lighting systems that can make your home safer and more convenient.
Request a consultation with a Vivint specialist. They'll answer your questions and share valuable insights that can help you plan out your ideal smart home setup.
Five complete guides for going solar
Learn more about solar storage systems, panels, inverters, batteries, and more.