Is your hidden key really hidden?
Chances are good that at one point or another someone will need to get into your home when you're not there. Whether your kids accidentally locked themselves out or your dog walker is stopping by for the weekly walk, they'll need to get inside. And more often than not, they'll use a hide a key to get inside.
When you hide your key outside, the purpose is to make it out of sight but not difficult to find for those who should have access to it. This makes it much easier to find for your kids, a house sitter, delivery person, or even yourself (if you're prone to misplacing your keys). But when it comes to hiding your key, there are only so many places you can hide it—and burglars are aware of these places too.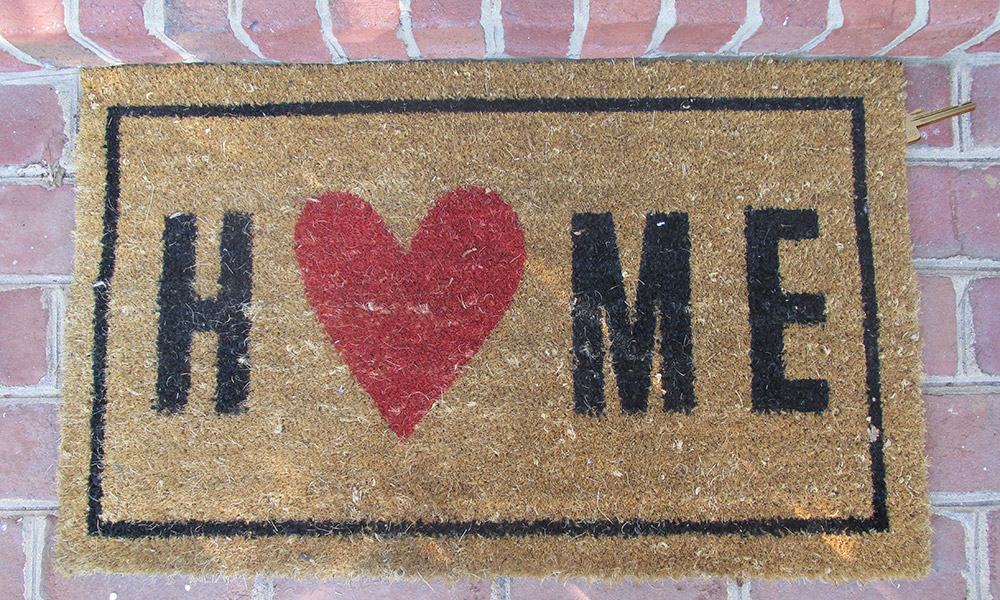 Is your hidden key really hidden?
Here are some of the most common hiding places for house keys:
Doormat. This is usually the first place anyone, guest or burglar, would look for a spare key.
Fake rock. One survey found 35% of people put their hidden key in a fake rock. Unfortunately, most fake rocks look… fake.
Plant pot. Many people keep potted plants on their porch, making them an easy (but obvious) place to stash a key.
Rain gutter or spout. This is a bit more creative, but also a bit more perilous. If it rains, you could be searching for your key.
Front door ledge. The ledge of the front door is another common spot for hidden keys, but it's also an easy spot for a burglar to access.
Porch light. Porch lights have plenty of little nooks for a key to rest, which is one reason why a burglar will know to look there, too.
Mailbox. It's away from the door, so a mailbox is the perfect spot, right? Not so much. It's a popular spot for people to hide their keys—and for burglars to peek into.
So sure, there are creative ways to hide your key. But the more "creative" you get, the more difficult it is for a child or visitor to find. And no matter how sly you try to be, burglars know the tricks.
Hide-a-keys, or spare keys, are quickly becoming passé and making way for a much better alternative: a smart home security system.
Smart home security—the key to a safer home
One of the most vulnerable points of your home is the front door; in fact, it's the entry point for more than 34% of break-ins.
Securing your front door is a must. A good first step to improved front door security starts with getting rid of the hide a key. And the next step is just as easy: installing smart locks and doorbell cameras.
Secure your door with a smart lock
Smart locks are more than just keyless door locks. With a smart lock, you have total control of your door no matter where you go, plus the added security of knowing you don't have the risk of your spare keys getting in the wrong hands.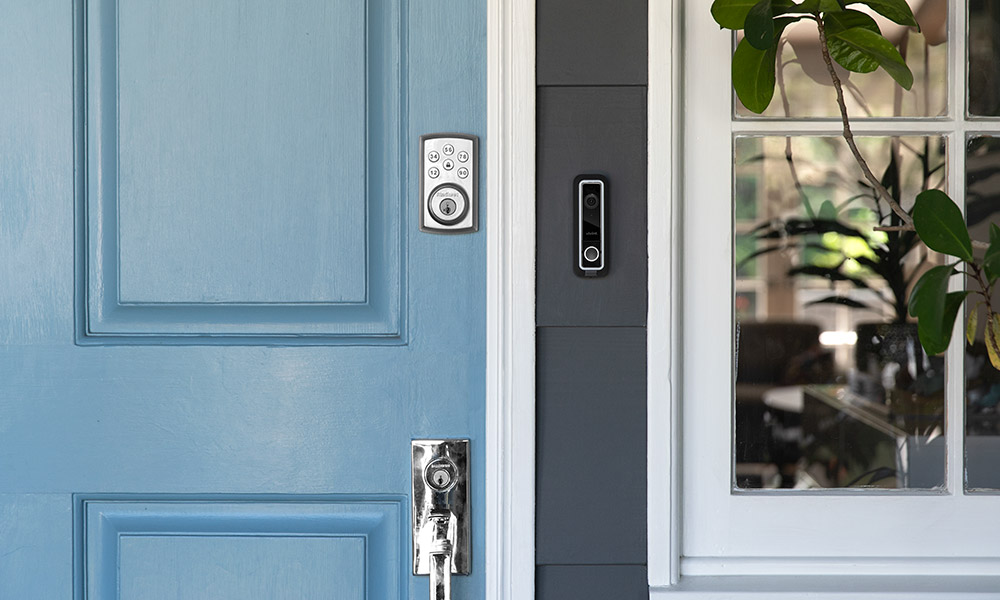 Here's how a smart lock can make your home safer:
Say goodbye to keys and hello to unique access codes
With a smart lock, access codes replace physical keys. This is not only easier—no more going to the hardware store to make a copy of your key—but it's also more secure than leaving copies of your keys "hidden" around your porch.
You can give everyone in your family their own code to the smart lock, or you can create temporary codes for your visitors, petsitters, housekeepers, or delivery drivers.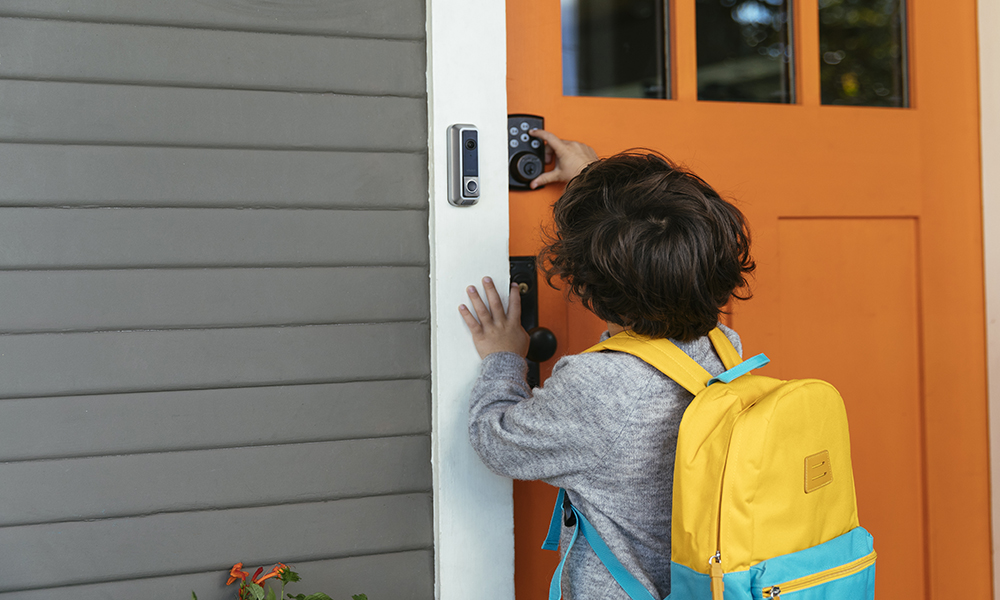 Know who's opening your door with access code alerts
Each access code is tied to a specific person. If you want to know who's coming and going in your house, you can receive notifications on your smartphone that let you know who opened your front door and when. It's a convenient way to find out if your teens were home by curfew, what time your petsitter arrived, or when your kids got home from school.
Multitask the secure way with one-touch lockup
Forget digging through your purse or pocket for your keys as you leave the house. When a smart lock is integrated into a smart home system, you can lock up, turn off all the lights, arm your system, and adjust your thermostat at the same time with just a push of the lock button the smart lock.
It's a convenient feature that helps you rest assured you're leaving your home secure and saving energy while you're away.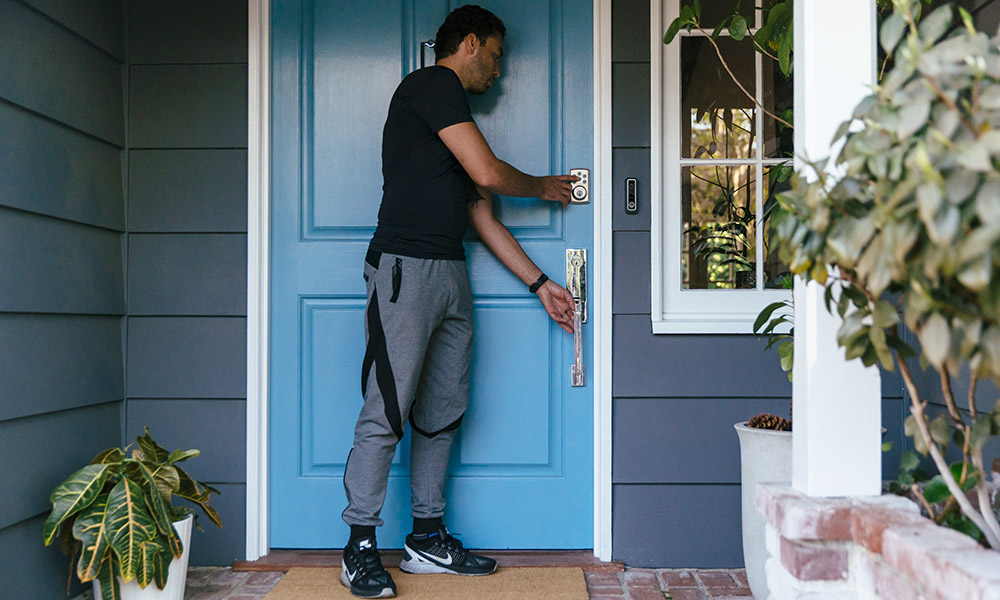 Extend your front porch protection with a doorbell camera
No front door security system is complete without a doorbell camera. It acts as caller ID for your front door, sending you visitor notifications on your smartphone, so you know exactly who's at your door.
And with two-way talk, you can easily talk to visitors from your smart home app, even if you're on the other side of the country.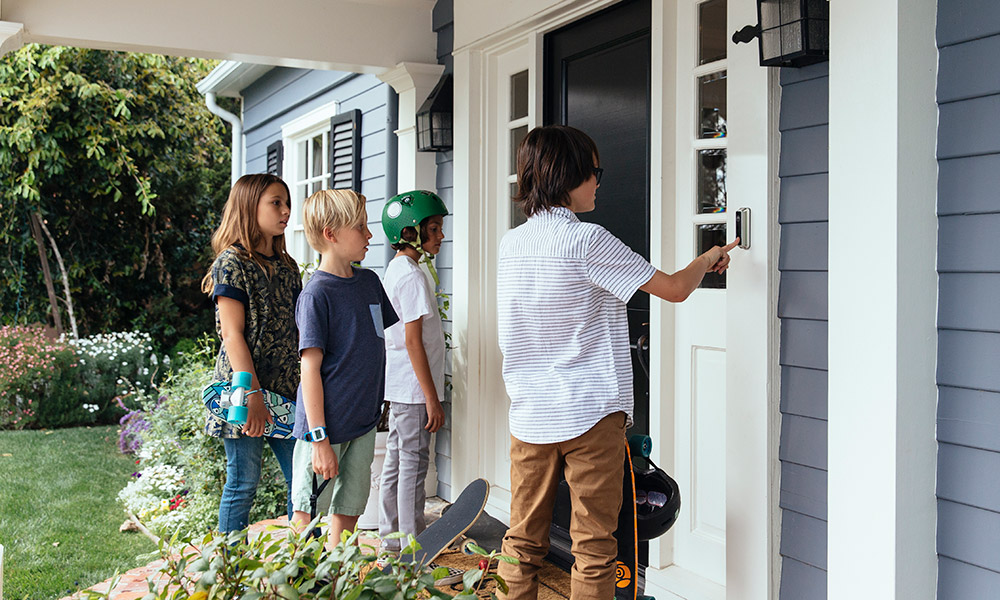 Know who's at your door with smart detection
The doorbell camera detects when someone is at your door—even if they don't actually ring the doorbell—and notifies you on your smartphone. This is helpful if someone starts looking for that hidden key that has been replaced by a smart lock. From your smart home app, you can speak to them through the doorbell camera and scare them away. Plus, you'll have video footage of them should you need to turn it over to local authorities.
Stop hiding your keys; secure your front door the smart way
The first step to securing your home is securing your front door, and that means ditching hidden keys for a smart lock and doorbell camera. With these smart home security features, you can let your loved ones in while keeping the bad guys out.
Ready to upgrade your front porch? Give us a call today at 800.646.1469 and get a free quote on a smart home security system.