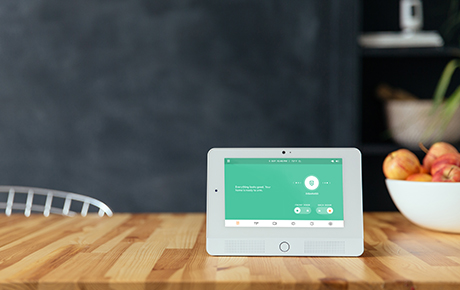 Home security has evolved greatly throughout the years, from guard dogs and simple alarm systems to today's advanced automated systems. As technology improves, so do the ways in which we can take care of our personal property. Tools like smartphones, webcams, Bluetooth, and mobile Internet have all made their mark on how we interact with the world around us, including how we manage our home security. By taking strides toward automation, your home will be ready for the 21st century and everything the modern-day criminal has at his disposal.
Keep an Eye on Your Home 24/7
The right home automation system is designed to help you keep watch over your home around the clock, whether you're physically there or not. Previously, homeowners could count on an alarm sounding when an intrusion was detected, but had very little insight into who or what had happened on their property.
Home automation creates seamless solutions to show you who's outside, who's trying to get inside, and where they're going, all with the touch of a button. Motion-sensitive door cameras, for example, record the action surrounding a home's entrances and allow playback on a phone or tablet for unparalleled convenience. An automated security system provides the ability to enforce security measures and check in remotely to make sure you to always know what's happening at home.
Simple Controls
Early alarm systems had cumbersome keypads that required a coordinated run to the control panel in hopes of beating a screaming siren, but today's automated systems offer significant advances in customer control. With a fully integrated system, users have the ability to disable an alarm, check security footage, activate door locks, and handle all personal security from a distance, through a mobile app.
Want to lock the door? Simply swipe to make sure your home is secure. Forgot to turn off the lights? Turn them off from the app. Received an unexpected visitor? Check the camera footage to see who it is. All of the controls in your home, including those that were previously labor-intensive, are available to you on all of your devices, providing extensive and unparalleled security.
Advanced Protection
With improvements in technology come improvements in safety options. Sophisticated automated security systems come with enhanced options such as remote door locks, keyless entry, doorbell cameras, lights and cameras with motion sensors, door and window sensors, smoke detectors, remote alarm management, and even the ability to control switches and thermostats from a distance.
Almost anything within your house, including security devices and cloud storage for files and images, can be managed remotely with an automated security system, giving customers the most inclusive approach to home protection ever.
Offering a customizable approach to home automated systems, Vivint is proud to provide some of the most sophisticated and intuitive security solutions on the market. Contact us today to take your home security to the next level.