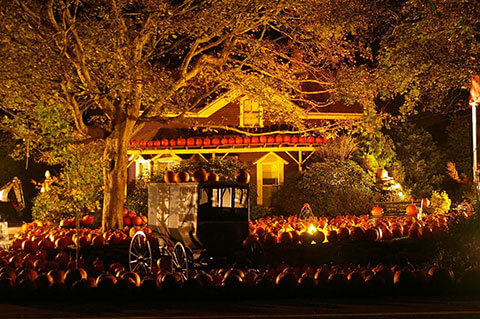 Halloween is the night your home security system works its hardest. Oct. 31 is the one time of year that many strangers come over and ring your doorbell in a short period. Those with a security system know that the system is on guard the entire night. Here's how you ensure your system is in top shape and functioning well on this spooky day.
Keeping things in working order
Make sure your batteries are fresh. Charge your phone if you're going out, so you'll have enough power to monitor your home from a distance. Check the batteries in your indoor home security system panel, so it's ready to go too.
Your doors and windows should be closed and locked when not in use. That way, the system will be fully protecting your home and on alert all night.
Protecting your home when you're inside
There are ways to keep you, your home and property safe while staying in on Halloween. First, move your car into the garage, so you know it won't be vandalized or act as a hiding spot for criminals. Also, don't answer the door after a certain time. Each community has its own regular trick-or-treating hours, even if they're unofficial. Generally, though, legitimate trick-or-treaters are done by 9 p.m. The doorbell cameracertainly will show you who's there, but you can always tell them you're out of candy through the intercom system.
Some people don't like hearing the alarm alerts every time a door is opened or the doorbell rings. In that case, set up shop on the front porch. Watch the parade of costumes on your block and greet the kids as they come up the walkway.
To ensure potential criminals know about your security system even in the dark, display your home security signs outside prominently. Consider making poster boards to hang up, noting that surveillance cameras are watching. Criminals are less likely to break into a home with surveillance cameras.
Beefing up security when you're away
Monitoring your home is important if you're away on Halloween night. You might have your home security system app set to alert you to every doorbell ring. If you're at a party and don't want to be bothered every time someone rings the bell, it's best to change your settings so you don't get an alert. That said, keep alerts for outdoor surveillance cameras set up where people aren't expected, such as the side or backyards.
Another trick is to keep lights on in the house. That may help deter criminals from breaking in. Consider using timers, so lights change in different rooms at specific times. With the lights on, though, people may think you're home and stop by for candy. You can put a sign up on your door that says "Out of Candy" so that fewer kids will ring the bell. Playing with the surveillance cameras can also help with monitoring. Face them further out in the yard or street to catch anyone entering the property for reasons other than seeking candy.
This is a night you especially want to protect and monitor your home when all kinds of mischief are happening. With so much commotion going on that night, your home security system should be on full alert.
If you want to learn more about adopting home protection, contact a Vivint representative.