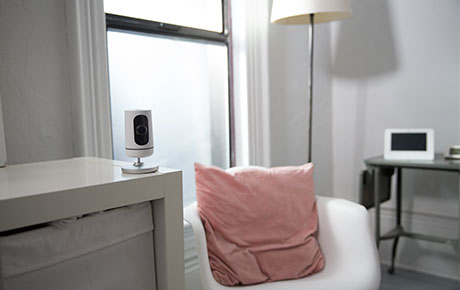 Home security systems allow homeowners to gain confidence, but they do not always provide enough protection. When you hope to protect your family at the highest level possible, the best way to do so is with the addition of surveillance camera systems. These systems work to provide more information, better access, and more protection. That's why so many businesses use cameras rather than just security systems. Why should you invest in them? What can they do for your family's safety?
Cameras give you information before you open the door
One of the ways to use surveillance cameras in your home is as a preventive measure. When placed by your doors, they allow you to see who is there before you approach the door to open it. That may mean you don't have to deal with a pesky salesperson, but it also means you can prevent opening the door or revealing your presence to unwanted strangers. When linked to home automation, these systems work very well to give you additional information. You may even be able to access them remotely when you are away from home or traveling.
Surveillance cameras deter break-ins
Yet another reason to invest in these cameras is that they deter would-be burglars. There is no doubt that a thief will select a home that is less protected than risk having their face or other identifying information caught on camera. That's why there is almost no reason to hide the system. Ensure it is visible and be sure that it is clearly marked at your driveway that you have this system in place.
Cameras can provide information
Should someone come into your home, cameras provide answers to questions about when it happened and who it was. While not foolproof, the right cameras placed in the right locations can help you to determine what occurred during an incident.
Choose the right type of surveillance camera system
To gain these or other benefits of surveillance camera systems for your home, you'll need to have the right type of system in place. Choose cameras within your budget, but ensure you choose the right type. Some are digital video recorders that record continuously. Others take short videos and link to motion detectors. You can, and should, consider investing in those systems that work along with your home's automation.
Home automation and home security systems that link to 24-hour monitoring allow you to have remote access to what's happening at your home. They also allow third parties to contact the police or report a risk of fire to ensure emergency personnel gets to your home as soon as possible.
The benefits of adding these systems to your home are numerous. The key is to determine what your risks and needs are and then to select the best system for them. You don't have to invest a lot of money in home security or home automation with surveillance cameras if you buy the right product for your situation.