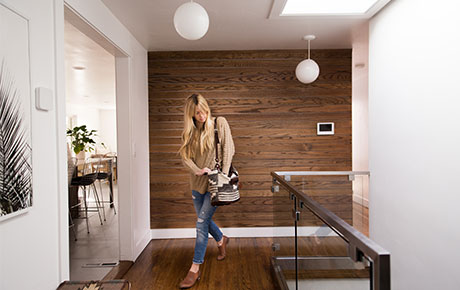 Lighting controls have been integrated into commercial buildings for several decades, but they're relatively new to residential homes. They are quickly becoming popular among homeowners, who appreciate the convenience and energy savings that having around-the-clock control over their lights provides. These are not the only benefits that lighting control has for homeowners, however. Perhaps the most important reason to invest in a lighting control system for your home is peace of mind. When you can instantly turn your lights on or off from anywhere, there are fewer reasons to worry about your home's security. Here's why.
Adjusting Lights Makes it Look Like You're Home
Leaving lights on while you're away is an easy way to create the illusion that someone's home. But if the same lights are always on, thieves may figure out that you turned them on when you left. Experienced criminals will even pick up on consistent patterns created by timers.
A light control system lets you adjust your home's lights throughout your trip. You can either use preset programs to vary which lights turn on, or you can make changes yourself while away. As long as your destination has Internet access, you'll be able to make it look like you're still home.
Instantly Turn on Lights from Your Bedside
Being able to turn lights on via the Internet or an app also has security benefits when you're home. For example, if you hear a suspicious noise during the night, you can instantly turn on all your home's lights – inside and out. If the noise turns out to be nothing, you can turn all the lights back off just as easily.
Turn on Lights If Your Alarm's Activated
Similarly, a light control system that integrates with a home security alarm can be set to turn on all lights if the alarm goes off. If you're home when the alarm goes off, instantly having light will help you see what triggered the alarm. Should an intruder trigger your home's alarm while you aren't home, they may think you're there when all the lights turn on. Of course, you can quickly turn off the lights when there's a false alarm.
Control Lights Through Your Home's Alarm
Even during normal operation, linking your lights up with your home security system can be reassuring. You might have a few lights turn on when you set the alarm and leave, so it looks like someone's still home. When you return and deactivate the alarm, you may want other lights to turn on.
If your home security system doesn't include light controls, call us at Vivint. Thanks to recent advancements in technology, it's easy to sync lights with an alarm system. Let us go over how it might work in your house, so you can enjoy all the benefits that modern light controls afford – including peace of mind.