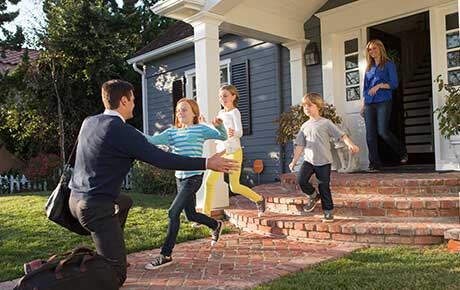 The investment in a home security system is one of the most important decisions you can make for your home. These systems have improved significantly from older models and now offer more features, better accuracy, and greater affordability. The fact is, locks on your doors simply are not enough to keep your home and your family safe in today's world. The good news is, though, the benefits of these systems are outstanding and well worth investing in for most homeowners.
#1: Keep your home safe from intruders
The right home security system does just that—it protects your home from unwanted intruders. Statistics indicate that homes without security systems are more likely to be targets for thieves than are those with systems, reports the Better Business Bureau. An alarm system itself can deter people from attempting a break-in. Even if a burglar doesn't plan to harm you, if he or she enters a home without an alarm and is confronted by you, he or she is likely to become aggressive. This is difficult to defend against. An alarm system, then, just makes sense to keep burglars at bay.
#2: You'll reduce your homeowner's insurance rates
A home security system can reduce your insurance rate. How much depends on your carrier and your current home value and policy. However, some homeowners can see a 20 percent discount on their insurance bill. That's a huge savings and can help pay for the costs of your system.
#3: Security systems can help with fire detection
Many of the best models of home security systems now offer smoke detection. If a fire occurs, these systems can sound an alarm and even contact the necessary authorities to put out the fire. This ensures quick results and attention to this life-threatening situation.
#4: 24/7 monitoring is essential
To protect your home at the highest level, having 24/7 monitoring is essential. This service ensures that your home is always under a third party's careful protection. Whether you are traveling or just at work, this can provide important protection to not only breaches, but also why they occur.
#5: Protect as much of your home as you want
From the garage to the windows and the basement doors, many areas of your home can offer access to burglars. You can customize your home security system to meet your specific home's needs, protecting any risk point effectively.
#7: New systems provide smartphone access
Did you forget to turn on the system? Don't worry: you can find out without having to return home. With a smartphone app for home automation systems, you can make sure your system is activated and working. This can do much to alleviate your worry.
#8: It gives you peace of mind
Should someone break into your home, you could be facing theft, damage, and even violence. When this happens, your sense of peace and safety in your home can be damaged for a long time. Having a high-quality, reliable, and high-tech system can often offer you the peace of mind you deserve and need.
Feel comfortable in your home. Know your family is protected. Most importantly, realize that home security systems are not that far out of reach.