Fast, accurate CO detection that syncs with Vivint Smart Home™
A Vivint Smart Home Pro will contact you within 24 hours. Or skip the form and call now.
Smart Carbon Monoxide Detection

.
Peace of mind starts with a CO detector that integrates with your smart home. And since it's part of your Vivint system, our team will monitor it 24/7. Breathe easy knowing we're always right there.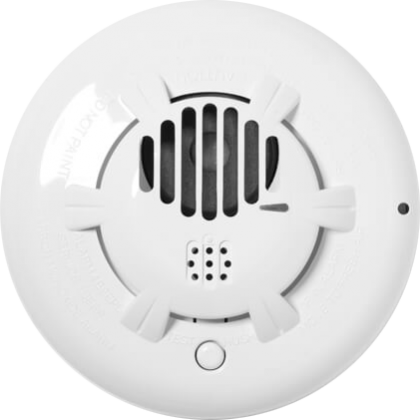 Electrochemical sensor for fast, accurate CO detection.
Smart home integration for easy monitoring and support.
Transmits wireless signal to Vivint SmartHub Panel.
Battery-powered for easy installation and repositioning.
Monitors CO levels within a 35-foot radius.
Sends alerts for tampering and low-battery condition.
Swipe to see more
Specs
Warranty
1 year or the length of your Vivint Service agreement, whichever is longer
Without accurate carbon monoxide detection, a malfunctioning furnace, gas oven, or water heater can turn indoor air deadly toxic really quick. Vivint CO Detectors use electrochemical sensors to provide life-saving protection that's monitored around the clock by our security team.
If a carbon monoxide leak is ever detected, having a connected Vivint system helps clear the threat as quickly and safely as possible. Our CO detectors automatically unlock doors, disarm window sensors, and crank up your furnace fan to ventilate your home and start clearing dangerous CO levels.
No matter where you are, the Vivint Smart Home app shows you mobile alerts whenever your carbon monoxide detector goes off. We'll send emergency services to check on your home, and make sure your family's safe.
The professional security monitoring that comes with Vivint Smart Home service gives you around-the-clock support emergency support. If you ever need to evacuate your home in a carbon monoxide emergency, Smart Home Monitoring Specialists will contact emergency responders for you while you take care of your family and pets.
With its five-year electrochemical sensor and backup battery, your Vivint CO Detector provides worry-free protection for years to come. And instead of annoying, middle-of-the-night beeps when the battery runs down, you'll get alert notifications on your control panel and Vivint Smart Home app.
™
Don't worry about tackling installation on your own. Instead let Smart Home Pros install your system, sync your devices, and link your account in the Vivint Smart Home app. Since carbon monoxide detectors are essential to home security, they come with every single Vivint Smart Home system.
Where should a carbon monoxide detector be placed?
A good rule of thumb is to place CO detectors in the same areas you'd place your smoke detectors. More specifically, according to the National Fire Protection Association, you should install your carbon monoxide alarms in the following places:
Outside every sleeping area
On every level of your home
Areas required by your local law
By placing carbon monoxide detectors outside bedroom doors, if alarms are triggered in the night they should wake everyone. 
These are the recommended minimums. But for greater protection, experts recommend placing CO alarms in other areas of your home as well:
Near sources of CO. Place CO detectors 5-20 feet from common sources of carbon monoxide in the home, such as your water heater, furnace, or space heaters. Make sure you don't place detectors too close to the sources, which could result in false alarms.
Near your attached garage. Running vehicles produce carbon monoxide through their exhaust systems, which causes pollution. In enclosed spaces like a garage, however, the concentration of CO can quickly reach deadly levels and seep into your home.
When deciding where to place your carbon monoxide detectors, make sure you don't place them near windows or sources of blowing air, which can prevent your alarm from accurately detecting CO levels. 
What can trigger a carbon monoxide alarm?
Carbon monoxide (CO) is a poisonous, odorless gas that's emitted by common appliances in your home or even your vehicles. It triggers a carbon monoxide alarm when it reaches unsafe levels. Fuel-burning appliances lacking sufficient oxygen during operation are the biggest culprits in producing carbon monoxide. These can include:
Gas water heaters, ovens, furnaces, or space heaters
Oil-burning furnaces
Kerosene space heaters
Wood-burning stoves
Gas or wood fireplaces
A carbon monoxide detector will alert you when amounts of the gas are reaching toxic levels. But you can also help prevent carbon monoxide emissions from occurring:
Never leave your car running in the garage, with or without the door open. This is especially important if your garage is attached to your home.
Make sure your fuel-burning appliances are installed in well-ventilated areas.
Keep your fireplace clean and in good repair, including chimneys and flues.
How do you know if your carbon monoxide detector is working?
The CDC recommends installing battery-powered or battery-backup CO detectors in homes. Keeping fresh batteries in your CO detector can ensure it's working.
CO detectors as part of smart home automation system from Vivint are even better. They are battery-powered, as recommended, so they can be easily positioned and moved throughout your home as needed. And because they're wireless, they will still work even if there is a power outage.
As part of a connected system, your carbon monoxide will sound an alarm if CO levels become a threat while automatically triggering life-saving actions:
The front door unlocks.
Window sensors disarm.
The furnace fan cranks up to ventilate your home.
If the carbon monoxide alarm sounds, you'll be notified on the hub in your home and on your smartphone through our app. And our professional monitoring team can even send first responders if needed. This means your home and everyone in it is protected no matter where you are.
Do carbon monoxide detectors give you false alarms?
Carbon monoxide detectors don't necessarily give false alarms, but they may be triggered before the amount of CO in your home reaches extremely toxic and potentially fatal levels—and that's a good thing.
It's why it's important to regularly change out batteries and incorporate CO detectors in a smart home system where you get the added benefits of a support and monitoring team and alerts on your smartphone and the control hub inside your home.
A Vivint Smart Home Pro will contact you within 24 hours. Or skip the form and call now.

Doorbell Camera Pro

Kwikset Smart Lock

Element Thermostat

Outdoor Camera Pro

Ping Camera

Smart Drive

Garage Door Control

24x7 Monitoring
Doorbell Camera Pro
Our doorbell camera automatically detects packages and uses light and sound to actively deter package thieves. With two-way talk, it also lets you answer the door from anywhere. And the app gives you quick access to your locks and garage door so you can let in the good and keep out the bad.
Kwikset Smart Lock
No more keys. With unique access codes everyone in the family—or even visitors—can come and go while your home stays secure. Control your locks when you're away using the Vivint Smart Home app. And with one-touch lockup, you can control your security system, lights, and locks with the touch of a button.
Element Thermostat
With the Element you get smart temperature control that perfectly blends comfort and energy savings. It automatically adjusts temperature based on home occupancy, and you can change settings manually from anywhere with your smartphone—potentially saving you up to 12% on your energy bill.
Outdoor Camera Pro
The Vivint Outdoor Camera Pro is the only surveillance camera that intelligently identifies and automatically deters true threats. It doesn't just record activity—it helps prevents crime. It's like having your own personal security guard patrolling your home around the clock.
Ping Camera
Ping, the world's first indoor camera with true two-way communication, keeps you connected to your family. View live and recorded video when you're away using your smartphone. And if you're home, call out to speak to family members with the press of a button.
Smart Drive
Nothing gets by you with Vivint Smart Drive. Save 24/7 video footage from up to four security cameras including indoor, outdoor, and doorbell to get a complete picture of your home's interior and exterior. Save footage for 30 days and easily browse minute by minute using event markers.
Garage Door Control
With all of the coming and going at a busy home, it's nice to know you don't have worry if the garage is open. Using the garage door controller, manage your garage using the Vivint Smart Home app and receive notifications if your garage door is open or if it failed to close. Left open? No problem. Close it from anywhere with your smartphone.
24x7 Monitoring
We take protecting what matters most a step further with our award-winning, 24/7 customer monitoring and support. Our smart home specialists are just seconds away, ready to respond to a potential emergency and send first responders when you can't be reached. If you're home, contact us through the convenient two-way talk feature on your Smart Hub.