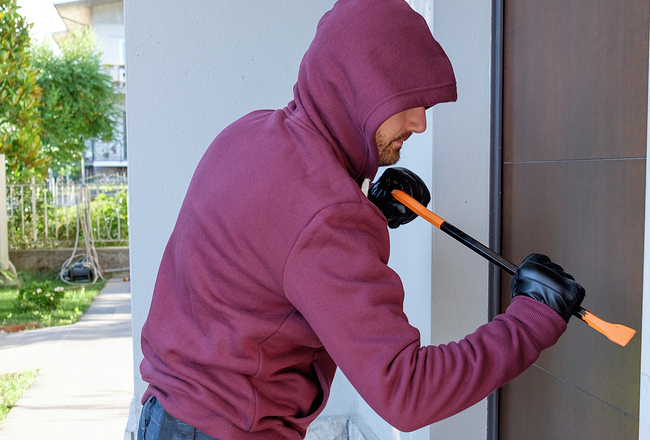 The homes targeted by burglars are not random. A recent study published by the University of North Carolina Charlotte gives insight into the mind of a criminal.
Researchers interviewed and examined the decision-making process of 422 randomly selected burglars to find exactly how they chose their targets. Researchers only interviewed incarcerated, seasoned professionals. The sample group averaged 12.9 arrests per inmate.
The results are surprising.
According to this revealing study, not only are most break-ins not random, thieves often case the home before any crime occurs. Here are the 4 unexpected things a burglar looks for when targeting a home.
1. The presence of a home security system
We all know alarm systems protect our homes and alert the authorities. Did you know they are also the biggest deterrent reported by burglars?
Home security systems typically leave the thief a limited amount of time to find what they want and make their escape. Limited time means higher risk and lower reward for crooks. Because of this, about 60% of burglars interviewed said simply the presence of a security system would make them choose a different target.
Furthermore, if an alarm triggers after the break-in has started, more than half of the burglars surveyed abandon the target.
Ultimately, you are reducing your odds of being the target of a break-in simply by having a home security system or alarm.
2. Possible witnesses
Turns out that nosy neighbor might be an important part of your home's security.
When researchers asked the burglars their top factors when considering a potential target, the first response listed was often the proximity of other people. This includes inconsistent patterns such as traffic, neighbors, and how often people walk by.
The more people present, the greater the chance of a 9-1-1 call. In the mind of a thief, every person who passes the home has the potential to get him caught. Simply having people in and around the home will cause most intruders to pass it by.
3. Visibility of the home
White picket fences and beautifully groomed shrubs add curb appeal to your home. They also make it a prime target for thieves who are finding their next target.
Another study on target selection titled Burglars on Burglary – Prevention and the Offender, states:
"Visibility during entry or departure significantly increased the perceived risk of apprehension. Residences with fences, large trees, or bushes (natural covering) that block the view of doors or windows are considered more attractive [to burglars]."
This point goes hand-in-hand with having possible witnesses. If your home is visually isolated from your neighbors and those passing by the property, burglars get more time to find an entry point, search through your home, and leave undetected.
A large window of opportunity is often too enticing for a seasoned thief to pass up. A great way to make yourself unappealing to burglars is to have a direct line of sight to your house from the street and your neighbors' homes.
4. Multiple escape routes
Blocking your home from view is an invitation to burglars. Alternatively, hindering a speedy escape is a deal breaker for most intruders.
The UNC Charlotte study states over 62% of burglars rely on the use of a vehicle. This means a thief's ideal target will have clear roads and quick access to a main flow of traffic.
The ability to exit the home quickly and without detection is also an important aspect of any job. If your home has tall fences or neighboring homes nearby, trying to leave the scene of the crime may be more trouble than the thief is bargaining for.
Some of the most effective features include tall fences with wide openings between the slats. These fences allow potential witnesses to have a clear view of your home while still making entry to your property more difficult.
This recent study from UNC Charlotte offers a lot of valuable insight into the mind of a burglar. For instance, most burglars cite windows as a favorite entry point. Adding window sensors to your current home security system is a great way to deter intruders. For more tips and insights, contact your local Smart Home Pro.
By knowing what makes a home an easy target, and optimizing against the typical thief's mindset, we are able to make simple changes that will bring lasting security and peace of mind.