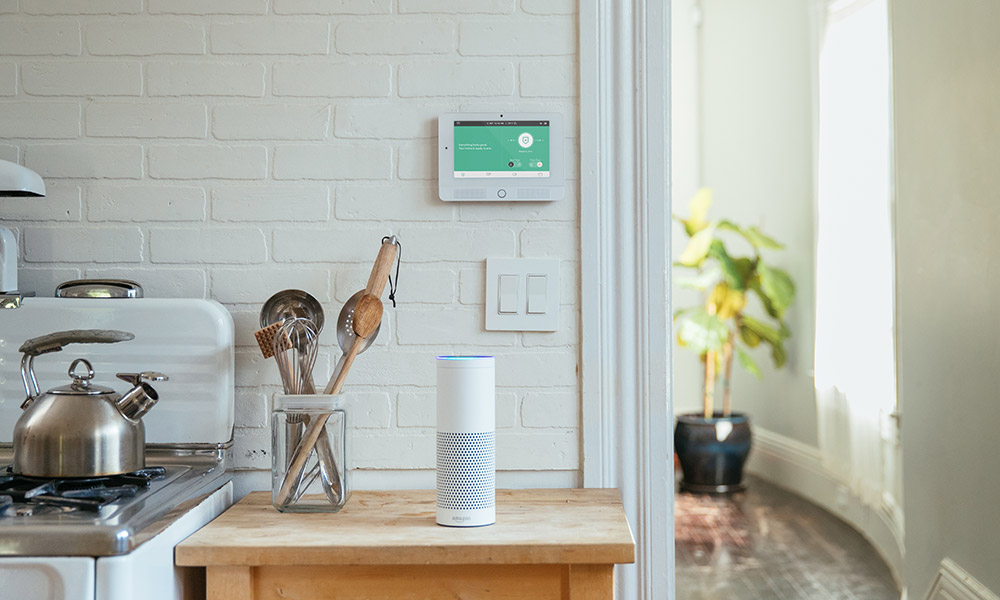 The ability to control appliances with your voice is any homeowner's dream. Case in point: If you love to cook, but tend to forget if you've put something in the oven, the ability to set a timer by voice as you close the oven door is a literal meal-saver. Couple that with the power to lock doors, arm your security system or adjust the temperature in your home, and you've got a busy (or just forgetful) person's best friend.
Well, that technology has arrived. Amazon Echo is a hands-free device that allows you to access news, information, weather, music and even audiobooks by voice command. At any time and in any part of your house, seven embedded microphones can hear your voice and relay your commands to your smart home system.
How does it work?
Alexa is the voice-controlled brain behind the system. She's intuitive to talk to and easy to get along with as she walks you through the setup process. Because the operating system is cloud-based, updates and software improvements are automatic, making Echo a set-it-and-forget it technology.
By using one of three predefined wake-words, Alexa can read you the headlines or put on a playlist from your favorite music subscription service. Plus, because the system is Bluetooth-enabled, you can also access great content from your mobile device and enjoy the immersive 360-degree audio system.
One of the biggest benefits of the system is far-field voice recognition, which uses seven noise-canceling microphones to filter out ambient sound and provide a clear response to your directions.
What does that mean for your Vivint system?
Because Echo is part of a complete system, it works seamlessly with your Vivint Smart Hub panel, thermostat, smart locks and doorbell camera to provide a whole-home security solution that you can customize for your needs. For example, you can tell Alexa that you're going to bed and to engage your door locks, turn off the lights and lower the thermostat temperature to create an environment that works for you. If you have your hands full with groceries and realize you've left your garage door open, Alexa can work with your Vivint system to shut it for you.
Is there anything it can't do?
Short answer: Yes, but only to keep you safe. The system isn't voice-specific, so anyone can give Alexa a command. To ensure security, you can't ask Alexa to disarm your Vivint system or unlock doors. However, you can ask her to arm the system or lock the doors as needed, making Echo a smart addition to your home's security.
The bottom line
The partnership between Vivint and Echo provides an integrated way to enhance the safety, security and convenience of your home automation system that can be customized to meet the unique needs of any home.
Contact Vivint to learn more about adding Amazon Echo to your smart home.