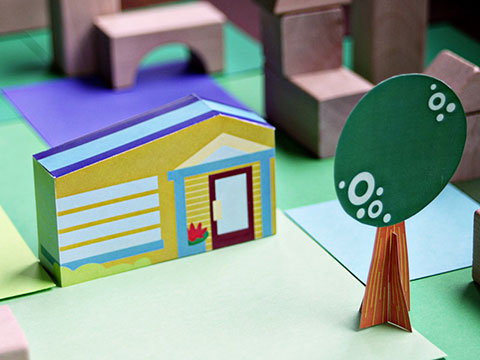 This week we wanted to highlight all of the amazing house printables that are available for you to download, print, and recreate. These homes are a great introduction to paper toys, whether for you or your kids. I've seen some amazing shelf or mantel displays using houses like these, so line them up in a row for some quirky modern décor.
Or create a 3D layout of your own neighborhood with your kids! Find a large piece of cardboard or oversized paper (the backside of cheap wrapping paper is great, or a roll of newsprint). Go to Google Maps and search your home address, then draw out the streets of your neighborhood on the cardboard or paper. Now count how many houses you need and begin to mimic them with the varying house styles available here for download. Voila! It's your own instant neighborhood! Add some matchbox cars and the look is complete. This is a great tool for giving kids a spatial understanding of the area they live in. Color on the houses then add stickers or flags to help personalize them—and to delineate the neighbors around you. You can even talk about safety: how far from home is safe, which streets are too busy, or if there's a forested area or creek to steer clear of.
Whether you're looking for a modern 60's vibe, a farmhouse redux, a NYC-style brownstone, a luxury condo, or a traditional turn-of-the-century home, we've got the house for you. We even have a Gingerbread house, a Christmas tree, and a snowman too! (And hey, when you have kids in the house, Christmas is a year-round topic). We'll be debuting families and more designs in the coming weeks, so stay tuned!
Download your houses now!