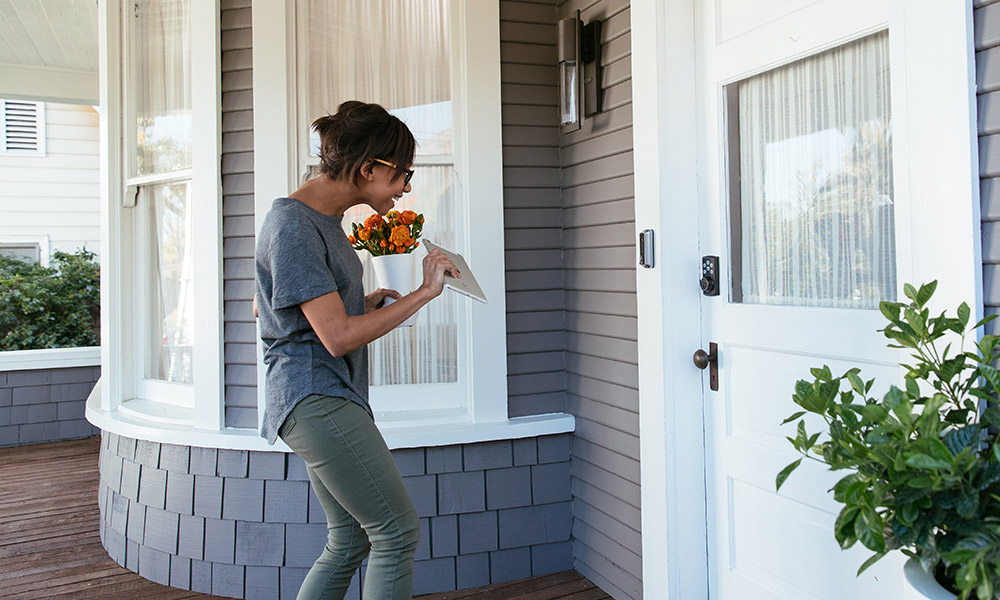 Sometimes with home security, it's the simple things that are most effective. A doorbell camera may be a small device, but it's not insignificant considering what it provides in terms of safety and convenience. These are the three key things you should be thanking it for:
1. Who's there?
A doorbell camera provides great visitor detection. With it, you can stream live video on your phone, instantly checking who's standing outside your front door before deciding whether to open it or not. This provides great peace of mind, and it's especially ideal if you have an elderly parent or if your children arrive home from school before the rest of the family.
2. Cover of darkness
A nighttime intruder may think they're hidden under the cover of darkness, but they can easily be picked up by a doorbell camera with night vision. Even in low light, the infrared technology means you'll get a clear look at the person on your phone. A burglar may not try to gain entrance through your front door, but even if they're hanging around the porch area, their motion can trigger a sensor and they can be detected by the 180-degree scope of your doorbell camera.
You can also capture every moment through 24/7 video recording, which means getting to know who visited your house while you were out or asleep. Should there be a robbery, you may have even caught the thief on camera.
3. Let's chat
The convenience of a doorbell camera can't be underestimated. Whether you're busy working in the backyard, you have mobility issues or you're not even at home, you'll still be alerted when someone is at the door. With a built-in mic and speaker, you can have a two-way conversation with your visitor while seeing them on video. This fantastic feature means you can direct a delivery person where to leave a parcel for you, or tell a friend to come around to the back door to let them in.
Don't forget, you can customize your own system with a tailored package. For example, you may want to add features, such as smart locks, so you can let people in remotely. Smart home tech is truly a wonderful thing.
For more about the benefits and features of a doorbell camera, call 844.481.8630 to speak with a Smart Home Pro today.