Connects you to what really matters
Top-rated smart home app
Rated 4.5-stars on the App Store and Google Play.
Custom alerts and notifications
Alerts and notifications delivered straight to your mobile device so you always know your home is safe.
Convenient home security controls
Arm your smart home from anywhere with the tap of a finger.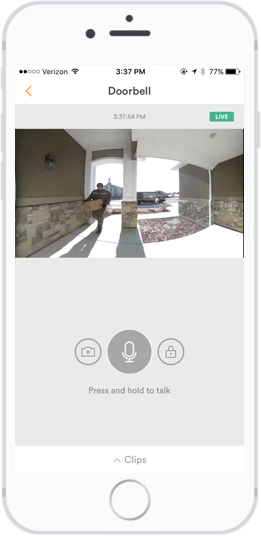 Be at home even when you're out
Check the live video feed from cameras around your home while you're on the go.
Mobile climate controls
Lets you adjust climate control settings from anywhere.
Intelligent home automation
The built-in AI assistant, Sky, tracks sensor input to automate and manage your smart home.
Custom actions that follow your lead
Set up rules and have notifications sent straight to your smartphone to stay informed and in control with the Vivint Smart Home app. Automatically lock the doors at a certain time every night, or get notified if someone opens a window while the air conditioner is running.
Remote access for complete control on the go
Keep full smart home controls with you wherever you go. Be home, even if you're on the other side of the world—use the app to see and talk to visitors through the doorbell camera, unlock the door for delivery people, then lock the door behind them.
Sky automates comfort and efficiency
Sky is the built-in machine learning feature that automates your home's temperature settings by tracking geolocation and your in-home sensors. Sky learns when you're home, asleep for the night, or out of town, and conserves energy while optimizing your family's comfort.
Individual accounts for everyone in the family
Share the benefits of the Vivint Smart Home app with your household by creating multiple user accounts for each family member. Create permissions and decide on limits for each user to keep the kids from fiddling with the thermostat or changing rules and notification settings.
Smart Clips to save and share the important moments
Don't waste time searching through every second of your security camera feed for a specific moment. Use Smart Clips to find what you're looking for. Show off your kids' dance moves or the dog's newest trick with 20-second video clips you can watch right on your mobile device.
Activity Feed keeps you informed
You can always see what's going on at home by checking the Vivint Smart Home activity feed—you can even apply filters or search exact date ranges to find a specific notification. Know when the kids get home every day, or double-check that you haven't missed a delivery.
30 days of 24/7 video footage with Vivint Playback
The Vivint Smart Home app works hand-in-hand with Vivint Playback, providing easy access to 30 days of continuous video from your Vivint cameras. Monitor the live feed of your home, or review the past month—all from the same app you use to manage lighting, thermostats, and alarms.
Professional installation from Smart Home Pros
Smart Home Pros will install your smart home system and link it to your account in the Vivint Smart Home mobile app.
Read what our customers are saying