A Vivint Smart Home Pro will contact you within 24 hours. Or skip the form and call now.
Expanding Your Smart Home Protection
With Car Guard, protecting your vehicles is as easy as protecting your home. The same app that allows you to monitor home provides vehicle security with location tracking, tamper alerts and diagnostics.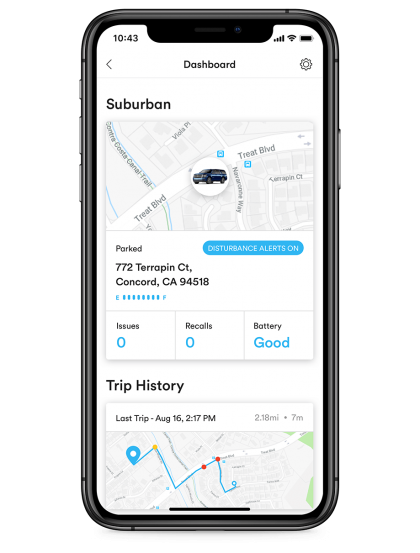 One App
Manage your home and car security in the same mobile app.
Tamper Alerts
Know if your car is being stolen, towed or just bumped so you can act.
Syncs With Home
Activate lights or video recording when your vehicle is disturbed.
Location tracking
In-app map lets you know the location of family members or a stolen or towed car.
Car Diagnostics
Monitor car status with maintenance reminders and notifications about mechanical issues.
Swipe to see more
Specs
Radio
GPS and 4G LTE cell with US and Canadian SIMs for tracking and data transmission
Back-Up Battery
Yes (alerts on tamper or removal)
Location Tracking
Vehicle status—parked or moving. Share location via text, email, or Slack
Trip Details
Date and time, address start/complete, trip route, rapid accelerations, harsh braking, idling
Product Protection Plan
Free replacement for defective hardware if subscribing to a Vivint service plan. (May require a separate site visit fee.) For product defects only. Does not include product failure due to abuse, normal wear and tear, acts of God, etc. as determined by a Smart Home Pro.
Accelerometer
3-axis to detect bumps, break-ins and tows
Car Condition
Battery life, issues (DTC) notices, recalls, service bulletins
Trip Statistics
Distance, duration, max speed, average speed, engine speed, fuel efficiency
We make managing family and home simple. Your vehicle is no exception, which is why we integrated vehicle protection with the Vivint Smart Home App. If your property is threatened—car or home—receive alerts and notifications through the app.
Car Guard integrates with the Vivint Outdoor Camera Pro to provide even more protection for your vehicles when they're parked at home. If your car is disturbed, Car Guard can trigger your ODC Pro to deter a thief with light and sound in just seconds.
It's your vehicle, after all. And with tamper alerts, you always know what's going on with your car. Receive notification whether your car is being stolen, towed or just bumped so you can take immediate, appropriate action.
Got teen drivers? Then you want Car Guard in your corner. Teens may think they have it all figured out when it comes to getting behind the wheel, but a little extra help can't hurt. With Car Guard you'll know where your teens are, where they've been and even if their vehicle needs maintenance.
Car Guard keeps your vehicle running smoothly. Its Health Scan feature monitors your car's performance and lets you know if it has issues—giving you a chance to make simple repairs before they become major problems. Car Guard makes it easy to keep your vehicles healthy and the people in them safe.
Is Car Guard compatible with my car?
Car Guard will work with most vehicles that have an OBD II port. You can check your car's compatibility here. *Note that the majority of vehicles made after 1996 include an OBD II port.
Can I install Car Guard myself?
Absolutely! Installation is simple and quick, with no wiring or tools needed. The entire process usually takes less than 5 minutes.
Is there a warranty?
Yes. In the rare event that there's a hardware failure, we will send you a new device at no charge.
A Vivint Smart Home Pro will contact you within 24 hours. Or skip the form and call now.

Doorbell Camera Pro

Kwikset Smart Lock

Element Thermostat

Outdoor Camera Pro

Ping Camera

Smart Drive

Garage Door Control

24/7 Monitoring
Doorbell Camera Pro
Our doorbell camera automatically detects packages and uses light and sound to actively deter package thieves. With two-way talk, it also lets you answer the door from anywhere. And the app gives you quick access to your locks and garage door so you can let in the good and keep out the bad.
Kwikset Smart Lock
No more keys. With unique access codes everyone in the family—or even visitors—can come and go while your home stays secure. Control your locks when you're away using the Vivint Smart Home app. And with one-touch lockup, you can control your security system, lights, and locks with the touch of a button.
Element Thermostat
With the Element you get smart temperature control that perfectly blends comfort and energy savings. It automatically adjusts temperature based on home occupancy, and you can change settings manually from anywhere with your smartphone—potentially saving you up to 12% on your energy bill.
Outdoor Camera Pro
The Vivint Outdoor Camera Pro is the only surveillance camera that intelligently identifies and automatically deters true threats. It doesn't just record activity—it helps prevents crime. It's like having your own personal security guard patrolling your home around the clock.
Ping Camera
Ping, the world's first indoor camera with true two-way communication, keeps you connected to your family. View live and recorded video when you're away using your smartphone. And if you're home, call out to speak to family members with the press of a button.
Smart Drive
Nothing gets by you with Vivint Smart Drive. Save 24/7 video footage from up to four security cameras including indoor, outdoor, and doorbell to get a complete picture of your home's interior and exterior. Save footage for 30 days and easily browse minute by minute using event markers.
Garage Door Control
With all of the coming and going at a busy home, it's nice to know you don't have worry if the garage is open. Using the garage door controller, manage your garage using the Vivint Smart Home app and receive notifications if your garage door is open or if it failed to close. Left open? No problem. Close it from anywhere with your smartphone.
24/7 Monitoring
We take protecting what matters most a step further with our award-winning, 24/7 customer monitoring and support. Our smart home specialists are just seconds away, ready to respond to a potential emergency and send first responders when you can't be reached. If you're home, contact us through the convenient two-way talk feature on your Smart Hub.