Discounts for individuals with intellectual or developmental disabilities
Vivint Gives Back tailors Vivint Smart Home systems to meet each family's unique needs at a price they can afford.
Do you have a child with an intellectual or developmental disability?
Fill out this form and we will give you a call.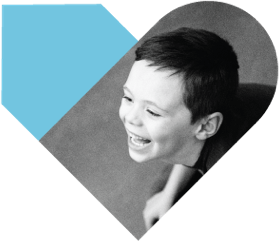 What is an intellectual disability?
Intellectual disabilities are identified as a complex disorder of brain development. This can have effects on a child's ability to communicate and connect socially, motor skills and coordination, and even cause physical health issues.
Vivint Gives Back System
How can a smart home system offer your family peace of mind?
Select a device below to learn more

Doorlock
Ping Camera

Smart Sensors

Motion Detectors

Vivint Smart
Home App

SkyControl Panel
Doorlock
Lock and unlock your doors remotely, set schedules and custom rules on door locks, and get activity notifications directly on your phone.
From a parent:
"Knowing that my door will now lock automatically eliminates all my worries of my child wandering outside unattended. I can now sleep more soundly at night." – Jim K.
Ping Camera
Video and a two-way intercom lets you quickly check in on your kids when a caregiver is at the home or connect with your child for a quick chat.
From a parent:
"Vivint is like having a second set of eyes: I can monitor my kids wherever I'm at but still give them a sense of independence." – Rob G.
Smart Sensors
Sensors easily fit into any doorway, drawer, cupboard, or window. Set up a custom notification to be notified each time a sensor is triggered.
From a parent:
"I can finally sleep at night knowing I will be alerted if my child's bedroom door or window is opened so I can stop them before they escape." – Sharon E.
Motion Detectors
Infrared technology recognizes movement from every angle and alerts you when there is unexpected activity.
From a parent:
"I have my motion detectors set up to text me an alert if triggered when my little escape artist tries to leave the house. It's been a complete life saver!" – Lisa W.
Vivint Smart Home App
The Vivint Smart Home app allows you to access all your smart home devices from anywhere, anytime.
From a parent:
"Being able to check in on what's happening inside of my home has brought huge peace of mind because it's now more difficult for my son to escape without me knowing." –Tammy L.
SkyControl Panel
Integrates all your Vivint Smart Home products into one hub.
From a parent:
"Knowing exactly where my son is in the house and that he is safe gives me peace of mind I haven't had in years." – Stephanie G.
Meet some Vivint Gives Back families