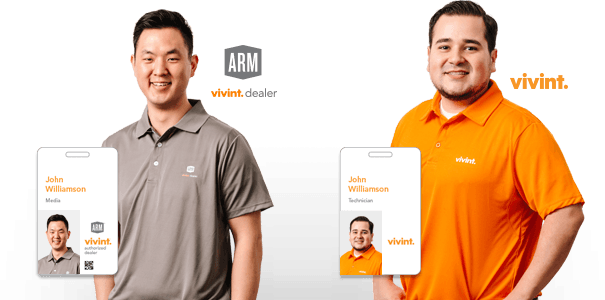 Authorized Vivint Dealer (ARM)
The only authorized dealer Vivint uses is Advanced Residential Marketing (ARM). ARM is a third-party company that helps us sell our product and find new customers.
Vivint Technician
Vivint technicians are trained professionals who come to your home to install your system or perform maintenance.
How do you spot an authentic Vivint representative?
Vivint representatives that come to your door will have:
An official ID number
A company badge
A Vivint or ARM uniform
To verify the identity of any representative that comes to your door, check their ID number below.
Verify your representative or technicican
If they don't have an ID number, they don't work for Vivint.
Call 866.870.2268 to check a badge ID number
Vivint Reps will never tell you any of these things
Sometimes our customers are misled by representatives from alarm companies and unknowingly enter into another contract while they are still under contract with Vivint. Here are a few things our customers are hearing: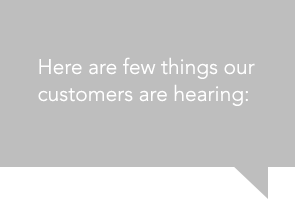 1.

"Vivint has gone bankrupt," or "Our company bought Vivint out."

Neither of these statements is true. Vivint has a 14-year history of providing great products and services and is financially stable.
2.

"I'm from the equipment manufacturer and am here to upgrade your system."

The only third-party source Vivint uses to sell our systems is ARM. We provide all of our equipment in-house and will never send someone from a manufacturer to inspect or upgrade your system.
3.

"I'm a broker and can give you the best rate on a system."

Again, the only third-party source Vivint uses is ARM. We do not use brokers and only Vivint representatives can offer you the best pricing.
4.

"A representative from Vivint called and we're here to follow up."

Vivint will call you occasionally to make sure everything is going well. However, our representatives will always wear a badge that you can verify online or over the phone.
We're here for you
Award-Winning Service
We pride ourselves on taking care of our customers and keeping them safe. Our customer service is available 24x7x365—including holidays and weekends. In fact, Vivint recently received the 2012 People's Choice Stevie award for Favorite Customer Service.
Industry-Leading Technology
We offer the latest and greatest technology at a price you can afford. All of our products are wireless and designed to increase security, energy efficiency, and convenience in the home. Vivint's Home Automation and Advanced Security packages received a Consumers Digest "Best Buy" rating.
Dedicated People
All the services we provide are made possible by great people like you. Thank you for being a loyal Vivint customer. If you ever need assistance, don't hesitate to call our Customer Support team at 800.216.5232.